Earlier this year Natalie Woods ('14, M.S. Information) was recognized by the Senate of Kentucky for her extraordinary work with Louisville's Beecher Terrace Community. What used to be government housing is being redeveloped as part of a $29.5 million grant from the Department of Housing and Urban Development to transform the public housing complex into a mixed-income, mixed-use neighborhood. More than 700 residents will be relocated in a series of three phases that have already left many feeling forgotten.
This is where Woods and the Western branch of the Louisville Free Public Library came into play. The Western Library was the first African American library in the nation for African Americans, run completely by an African American staff, and was led by the first African American Librarian, Reverend Thomas Fountain Blue. At just over a mile away, the LFPL is a "stakeholder in the community directly affected," says Woods.
Woods was assigned as a consultant to the project on behalf of the library's Western branch where she serves as manager. "Being that Beecher Terrace is a historical site and my branch is a historical library, everything just came together," she says.
As a consultant to the project, Woods has had the opportunity to provide feedback on the reconstruction, as well as apply for grant funding to help preserve the history of the library and the community surrounding it. The biggest message Woods wanted to send to residents was that they mattered, they had a voice, and they had not been forgotten.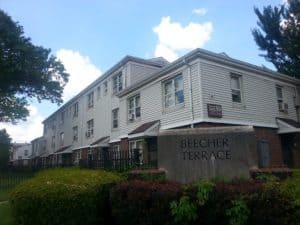 To do so, Woods created a program that would give a voice to the residents that were being displaced. Thus, the Visions of Beecher Terrace program was formed. Here, old and new residents are given the chance to speak on a panel regarding their experience living in the community. Woods has successfully hosted two of these panels so far with another one planned for July. "My hope was to remove any barriers that may have been in place to information and make everything as accessible as we could…" Woods says.
This program has resulted in several partnerships and many more initiatives. Woods is currently hosting a seven-week program on Mental Health in the African American Community which includes the effects of Racial Trauma. She also created the Pillars of Louisville program which highlights people in the community—sharing their stories and personal history with others around them. Woods has also partnered with a local filmmaker to showcase his work on a documentary that tells the stories of those impacted by the redevelopment.
"I am just trying to get my branch back to its historical community-based roots, which Reverend Thomas Fountain Blue believed in; and provide something unique for the community I serve," she says.