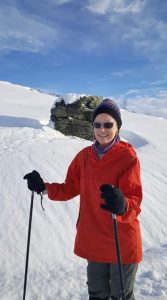 When most people think of common requirements of librarians, a base knowledge of marketing isn't usually on the list. However, Christie Koontz ('90 Ph.D. Information Studies) is passionate about improving libraries and their ability to serve their communities.
Dr. Koontz has served the last twenty years of her career in the International Federation of Library Agencies (IFLA). Here she helped found an international marketing award to educate applicants about marketing terminology, which she also created the glossary for.
Through IFLA she travels almost once a year to different countries teaching marketing principles to librarians. "Marketing research identifies not only characteristics of actual customers but also potential customer markets," she says. Her most recent trip was to Norway and Sweden where she taught workshops and even had time to ski and visit the ABBA museum. "You can travel the world too – work hard, study, and most of all have something significant to exchange," she says to college students looking for similar opportunities.
Dr. Koontz started her career in journalism and advertising, which she calls the "promotional step of marketing." It wasn't until graduate school when a marketing professor, Dr. Persis Rockwood, took Koontz under her wing and sparked her passion for the major.
"[Dr. Rockwood] facilitated my knowledge and understanding of systematic marketing," Koontz says. Together the two women created a continuing education program which Koontz has used to teach her courses and workshops ever since.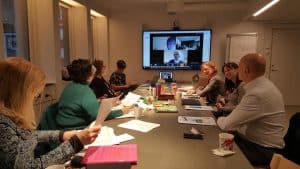 From 1997 on, Dr. Koontz has taught marketing at Florida State to future library and information professionals. She also teaches a storytelling class in the summer that she developed ten years ago. Currently, she works with Dr. Lorri Mon, director of the School of Information, to develop recruitment and marketing strategies within the college. Koontz developed the original webinar system that the two currently use to recruit students.
"It is exciting to bring new people into our profession," she says regarding her work with the School of Information. If you are interested in learning more about earning an M.S. in Information you can check out the website here.