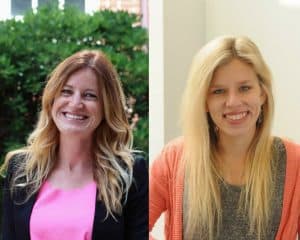 This Spring, FSU School of Information Ph.D. graduates Amelia Anderson (pictured left) and Abigail Phillips (pictured right) were awarded the Frances Henne Research Grant for their project, "Youth with Autism and Digital Citizenship in the Library: What They Need and What Brings Them In" (see the full story here). The two have worked as public librarians in the past, and were ready to combine research with their own practical experience and knowledge. Through this experience and their studies, Anderson and Phillips have grown passionate about the ways in which research can elevate information and library systems.
After graduation, Anderson remained at the School of Information as a postdoctoral scholar while Phillips headed to Utah State University for a postdoctoral fellowship in the Department of Instructional Technology and Learning Sciences.
Now, these scholars are both beginning faculty positions in their field. Anderson will be joining the faculty of Old Dominion University as an assistant professor in the library science program which is a part of the STEM Education and Professional Studies Department in the Darden College of Education. The library science program at Old Dominion is a growing one with faculty members who are known to often earn grant funding. Referring to her new position, Anderson shared, "This is a really exciting position for me because I will be doing the three things I love: conducting interdisciplinary research, teaching and mentoring future librarians, and contributing meaningfully to the community through service."
Phillips has accepted a faculty position at the University of Wisconsin-Milwaukee and is delighted to begin teaching future librarians who are also passionate about the field. Phillips also looks forward to conducting more research that yields helpful community-wide impact that is practical for librarians.  However, her research interests are not only in librarianship but also in discovering more about young adults, social media, cyberbullying, and digital citizenship.
These iSchool Ph.D. alumnae will bring a Seminole spirit in their new chapters across the country. With their connection and tireless commitment to the research and improvements in this field, we know their passion will return remarkable results.