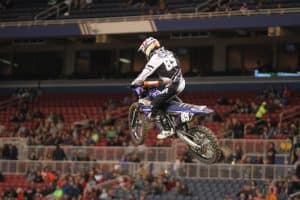 Joshua Cartwright ('18, B.S. Information Technology) was gifted a motorcycle at the age of three by his parents, but they never would have dreamed he would one day race Motocross and Supercross professionally. Cartwright's accomplishments include competing and winning the 2004 AZ Open National Championship (50cc, 7-8), the 2009 GNCC National Championship (85cc, 12-13), 2013 Loretta Lynn Amateur National Champion (College-Boy, 16-24), and the 2014 Walton Canadian National Champion (Youth, 16-24). Cartwright has also qualified for multiple professional Supercross main events with a best finish of 11th place while balancing his time as a full-time FSU college student.
In winter, Cartwright races Supercross where entire tracks are built each weekend in football stadiums across the country. In the summer, he races Motocross where two-mile tracks are built around natural terrain. While most parents might be hesitant about letting their son compete in such a perilous profession, Cartwright's knew it was something he was dedicated to and nothing would change his mind. "My parents are where I get my 'never give up' attitude and work ethic from," Cartwright explains. "I admire my parents more than anyone."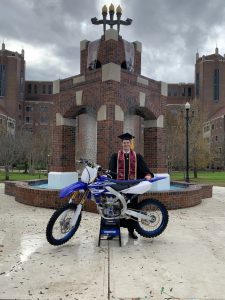 Balancing his classes and a hectic practice schedule took time and effort for Cartwright to master. Luckily, he was able to stay focused on the reason he went to college in the first place. "Some people lose sight of why they are in college and they get caught up in the party scene of it all," Cartwright says. "It is always good to have fun, but have your priorities straight with your studies before the weekend party plans."
For Cartwright, his weekend plans usually consisted of either studying at the library for exams or non-stop training on his bike. Even though he knew he wanted to be a professional racer, Cartwright was still dedicated to his studies and determined to get his degree in Information Technology from the School of Information.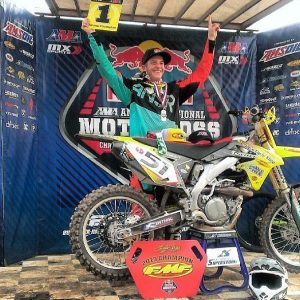 Ever since Cartwright was young, he wanted to be a professional Supercross/Motocross racer but knew he would need a backup plan which is where his desire for higher education came into play. "I have had many job interests growing up from a pilot to a surgeon. Once I started classes at FSU, I saw that the future was in technology and I decided to take a coding class. I fell in love with the IT world and decided to stick with that field."
While Cartwright doesn't struggle with wondering what he'll do now that he's graduated, he still has a few encouraging words for students trying to figure out what career they would like to pursue. "In today's world, there is a job for everything and college is a great place to find that opportunity," says Cartwright. "It will give you many option to try and many ways to see what best suits you."
Cartwright is looking forward to seeing where his career in professional Supercross/Motocross racing career takes him.