In 2007, Daniel Phelps ('97 B.A. Arts and Sciences, '98, M.S. Information Studies, '05 Ph.D. Information) moved to Doha, Qatar as part of a two-year contract with SEI/CERT, a Federally Funded Research and Development Center administered by Carnegie Mellon University (CMU). While he was there, CMU developed the Information Systems Program at the Qatar campus, which Phelps began heading as Program Director in 2015.
Though the program runs much like it does in the U.S., one of the main benefits of the Qatar campus is its location in Qatar's Education City. Here many other universities have international programs such as Weill Cornell Medical College, Georgetown University's School of Foreign Service, Northwestern University's School of Journalism and Communication, Texas A&M University's Engineering Programs, Virginia Commonwealth University's School of the Arts, and University College London's program in Library and Museum Studies.
As Program Director, Phelps's schedule isn't much different than any other faculty member. "I have teaching and scholarship responsibilities, but my service/administrative responsibilities tend to be larger," he says. Phelps is responsible for the student/curriculum portion of the program meaning that he and other faculty members work closely with the Marketing and Public Relations team to implement brand awareness and outreach for the program as a whole. He and his team also focus on the specifics of scheduling courses, advising students, and ensuring students are prepared to meet graduation requirements. Finally, Phelps acts as the program representative to the broader community, both internally and externally.
Getting to do it all in an up-and-coming city like Doha only adds to his already incredible experience. Despite the heat, which can be gruesome in the summer sun, Doha has been going through a period of immense growth in the past several years. "It's not the same country it was when I first arrived," Phelps says recalling his first memories of the city. "It seems even if I go away for a summer, it's different when I return."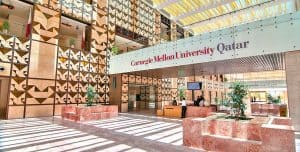 Before making the big move, Phelps had a totally different plan mapped out for his life. Although he had been interested in computer science since playing with his first computer, a Timex-Sinclair 1000, Phelps became an EMT at age 16. In the late 80s, he enlisted in the Navy Reserves where he served as a Marine Corpsman, an Operational Intelligence Specialist with the Air Force, and a Navy Cryptologic Warfare Officer. He also became a licensed paramedic in 1989 while he worked on his undergraduate degree with the end-goal of attending medical school. Before he knew it, late nights in the library turned into a love for the broader field of information studies and soon he was applying to FSU's School of Information.
While at FSU, Phelps came in contact with Dean Jane Robbins who was at the School of Information during the time he received his Ph.D. "She was always incredibly generous with her time and support, and her breadth of experience opened my eyes to the variety of opportunities that I could pursue upon graduation," Phelps says.
After receiving his Ph.D. in Information, his passion and curiosity for the field continued to grow, resulting in a Master's degree in both Computer Science and Measurement, Evaluation, Statistics, and Assessment, as well as a post-graduate degree in Systems and Operations, "all of which support my work related to Information Systems Security," Phelps says. In recent years, Phelps was able to merge his background in healthcare with his other work by doing work in Clinical Informatics where he focuses on critical care and emergency medicine.
While Phelps prepares for another deployment, this one in support of Operation Inherent Resolve, he highlights the value that having an education based on liberal arts has brought him. "The undergraduate education I received prepared me not just for graduate school, but also for the plethora of challenges life presents… While I don't know what any deployment will bring, I do know that my education at FSU and elsewhere has prepared me to meet the challenges that I will inevitably encounter."