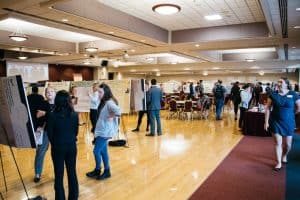 The Undergraduate Research Symposium is an annual showcase for undergraduate students from all majors to present their work to the wider community. Hundreds of student researchers, including those from Garnet and Gold Scholar Society, Honors in the Major Program, the Undergraduate Research Opportunity Program (UROP) among others, present their work as poster and creative presentations in the FSU Oglesby Union Ballrooms.
The College of Communication & Information had several undergraduate students present their research at the event and each of the three schools were represented.Watch our recap of the afternoon and gain some insight from our students into their research by watching the video below.
Continue reading for a full list of participating CCI students.
School of Communication:
Kathryn Voornveld "Communicating about Inclusive Practices in Media Production Pedagogy" Faculty Mentor: Malia Bruker
Kaitlyn Bludau "Career Center Website Redesign" Faculty Mentor: Nancy Friedman
School of Information:
Erykah Jenkins "Cracking the Code: African American Women in Computer Science" Faculty Mentor: Dr. Yolanda Rankin
Julian Kingston "Game-based Second Language Acquisition" Faculty Mentor: Dr. Yolanda Rankin
Caleb Wilson "Understanding Patient Information Needs about their Clinical Laboratory Results: A Study of Social Q&A Sites" Faculty Mentor: Dr. Zhe He
Brittany Ernst "The Analysis of HINTS Data Survey Using the RISP Model" Faculty Mentor: Dr. Zhe He
Bridget Kabacinski "STARS Tracking Analysis" Faculty Mentor: Ebrahim Randeree
Farbod Nasseh "Blockchain Technology" Faculty Mentor: Dr. Hui Wang
School of Communication Science & Disorders:
Aiden Dial "The Relationship Between Language Use of Second Grade Teachers and Their Students Language and Literacy Achievement" Faculty Mentor: Dr. Carla Wood
Brianna Newberg "Language and Literacy Achievement in Relation to Differing Economic Backgrounds" Faculty Mentor: Dr. Carla Wood
Mary Gerety "Supporting Early Writing Development in Preschool-Age Children" Faculty Mentor: Clariebelle Gabas
Elisha Gilbert "How Autism Spectrum Disorder (ASD) Training Impacts an Early Childhood Educator's Concerns about ASD" Faculty Mentor: Iris Davis
Mallory Meuser "The Effectiveness of Voice Therapy on Muscle Tension Dysphoria: A Scoping Study" Faculty Mentor: Richard Morris
Bailey Oliver "Acoustic Indicators of Cognitive Load in the Utterances of Bilingual Speakers" Faculty Mentor: Richard Morris
Emma Metzler "Measuring Bias Against Monolingual and Bilingual Spanish Speakers on the TVIP" Faculty Mentor: Rachel Hoge