Dr. Azmat Rasul is an adjunct faculty member at the School of Communication who also teaches at Valdosta State University. After earning bachelor and master degrees in Mass Communication from the University of Punjab, Rasul came to Florida State University to earn a master's in Media Communication. He also received a degree from FSU's College of Education in Measurement and Statistics.
Dr. Rasul has a heart for research. As a Fullbright research scholar, he attained a Ph.D. from Florida State. His research interests and experiences range from persuasive effects of media in entertainment, political and international communication, and strategic communication. Rasul is a specialist in designing quantitative research. He has even taught classes here on research methods. He has authored several research papers and books; some of which have been recognized at FSU and international conferences. This past May (2018), Dr. Rasul had the opportunity to present at the International Communication Association (ICA) Conference working alongside one of his greatest colleagues   his son, Ehab.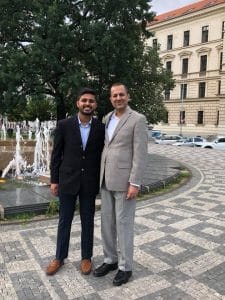 Ehab Rasul is pursuing degrees in both Media Communication and Psychology. He strives to involve himself in the FSU community on campus, but also through undergraduate research worldwide. Though he has presented at ICA before, this year, Ehab joined his father on the trip to Prague to present together. The paper was titled, "When Celebrities Wade Into Politics: Measuring Political Influence of Celebrities," and focuses on the impact that celebrities have on voter behavior. Dr. Rasul and Ehab did this measurement through the creation of a scale. Ehab shared his experience of the Conference: "As a young researcher, this was an excellent opportunity for me to see the leading researchers in Mass Communications present their ideas. I was inspired and learned a lot from the numerous presentations and talks that I attended. I met some incredible professors who inspired me to come up with new research ideas and learn research techniques."
Not many researchers are able to say they've had the unique opportunity to present with their own father. When asked his thoughts on the experience, Ehab explains, "He has given me advice and helped me a lot in the past but we never had worked together. The opportunity was amazing because my dad has a vast research agenda and he has so many publications. It was as intimidating as working with a professor even though he is my father."
Ehab was also awarded an ICA Travel Grant from the Conference and a travel award from the Mass Communication Division.