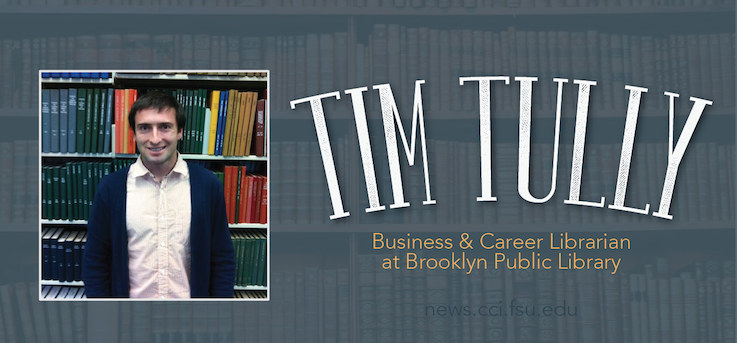 Recent Master's in Library and Information Studies graduate, Tim Tully, is busting the librarian stereotype in his role as a Business & Career Librarian with the Brooklyn Public Library (BPL) in New York City.
Tim's career as a librarian is lightyears away from the preconceived notion of librarians. On the day-to-day Tim is assisting patrons with career and business inquiries; fostering relationships with community, economic development and government groups; and traveling to assist programs at BPL's 60 branches.
For 12 years, BPL has hosted the PowerUp! business plan competition to help small business owners make their dreams a reality. Participants attend classes at BPL on creating business plans, marketing, financial projections and conducting research. BPL connects participants with community business counselors and awards over $19,000 in prizes. Tim and his colleagues help participants find resources for business plans.
Tim's work gives him the opportunity to impact lives and better the Brooklyn community. All three top winners from PowerUP!'s 2003 competition are still in business over a decade later. In 2014, first place went to JestGreen, a street vending model that serves locally sourced greenery and juices.
"The most rewarding part is seeing the impact we have on people's lives," he shared.
You can also find Tim doing virtual reference via email/chat and helping develop the small business collection. BPL's "Book A Librarian" service offers patrons personal research consultations for business and career related questions, as well as resume and cover letter counseling.
In his daily efforts, Tim says he pulls from his Florida State education. Tim was a graduate assistant at the Goldstein Library, spent time at Domi Ventures as an embedded librarian and spent two semesters of experiential learning with business librarians.
When he isn't working, you might find Tim wandering through New York City, skating or surfing. The subway and train makes it easy for Tim to travel to the various beaches and skate spots around the city.
"I'm learning a lot right now, and I think there is still quite a bit to learn from Brooklyn Public Library."
More on the School of Information's Master's in Library and Information Science can be found here.