Recently, student groups Connecting Girls to STEM (CGS) and Students & Technology in Academia, Research & Service (STARS) hosted a Robotics Petting Zoo for 1st through 5th grade girls. The event included over 40 participants and 8 FSU student volunteers and was led by now recently graduated Ph.D. candidate Melissa Davis.  CGS hosts 3-5 STEM outreach events every semester for young girls.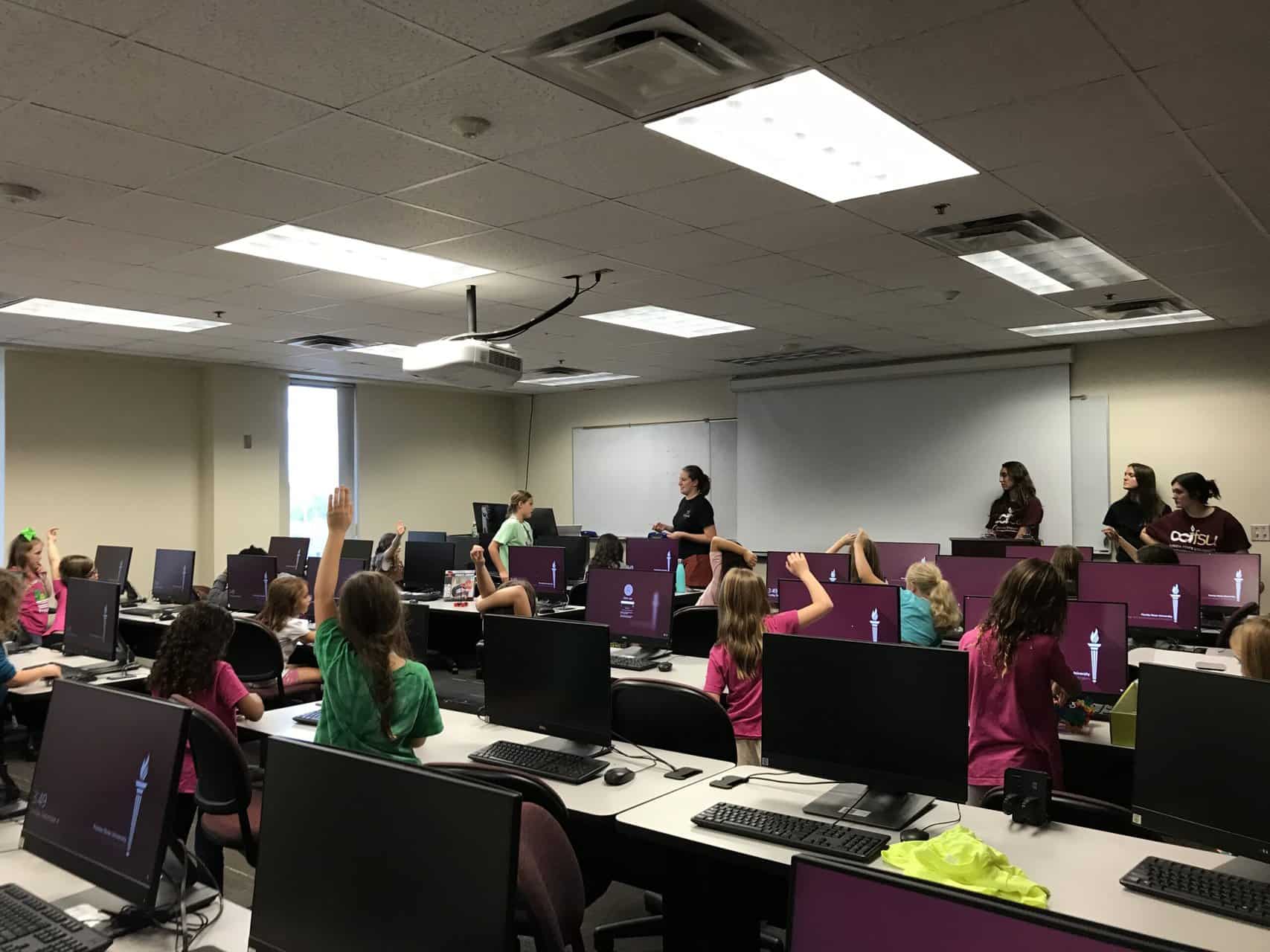 Dr. Melissa Davis has been involved with both CGS, which brings STEM related programming to young girls in the local area, and STARS, which works to increase the participation of women and other under-represented groups in IT/computing disciplines, at Florida State University since beginning her doctoral studies here. She first joined STARS at her undergraduate institution, George Mason University, in 2012.
Associate Dean Ebe Randeree has been running the FSU STARS group since 2006. STARS partners with local schools, girl scouts, and local teachers and helps provide technology camps and events through partnership with student organizations. Camps and weekend events are hosted throughout the year.  "Getting young women interested in technology early can open a wide array of career paths for future leaders" said Randeree. "The College has had numerous outreach programs to reach young women and keep girls interested in STEM.  We work with STARS, CGS and other student organizations in the college to deliver outreach programs all year long."
The Robotics Petting Zoo event was held on December 4th and allowed participants to gain knowledge on a variety of robotics-related topics including programming, infrared signals, motors, and obstacle avoidance. After an introductory session into robotics led by Dr. Davis, the girls spent four hours rotating between four different stations led by student volunteers as well as Dr. Davis where they worked with bristlebots and motors, learned about breadboards and programming arduinos, worked with infrared signals and small robots to learn about obstacle avoidance, and interacted with robot ants to further understand robot movement and how to program functions.
Dr. Davis was recently nominated for Educator of the Year for STEM related summer camps she has led with high school students. On the Robotics Petting Zoo, she shared "The goal of the event, and honestly all of my events, is to introduce female students to 'scary' topics such as programming and circuitry at a young age to dispel any fear that an engineering field or hobby isn't possible for them. I also like to say that I don't want to turn every student who comes to my workshops into a future engineer; I want to allow each student to leave knowing they are capable of becoming an engineer if they desire."
After receiving her Ph.D., Melissa Davis has accepted a fellowship in the National Laboratory in Colorado. Please join us in congratulating her and thanking her for the impact she has had on our community!
The student volunteers at the event were Alyssa Goosby, Annie Blanchard, Elyssa Horne, Jennifer Sterling, Maggie McKinnie, Olivia Kennedy, Madison Dodd, and Simone Ebert.