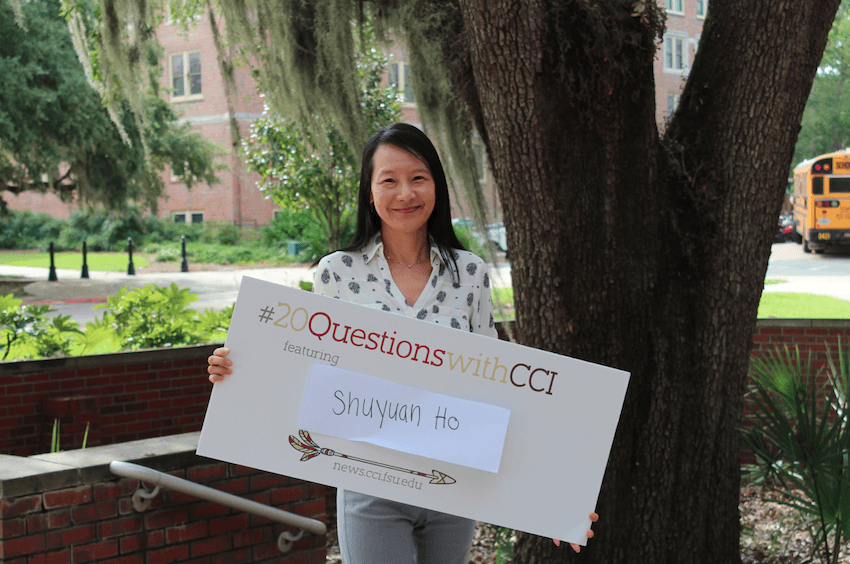 20 Questions with Shuyuan Mary Ho
What was your first job?
I was an English instructor in Taiwan. Go figure!
If you were to write a personal memoir, what would you name it? 
"The road less traveled"
Where did you grow up? 
A very small town with a very big lake in Taiwan
What is your favorite class you've taught?
My favorite class is whenever students are really engaged.
What is your favorite place to grab dinner in Tallahassee?
My comfy kitchen – DIY food is the best
What are your hobbies outside of work? 
Ancient Chinese music – I play the Guzheng (Google it!)
Have you always wanted to teach? 
Not at all. Originally I wanted to be a sumo wrestler, but just could not put on the weight.
What is your favorite place you've traveled to or where would you like to go?
Israel and Berlin Germany are my favorite places. Really would like to travel around rural China someday…
How many football games have you attended? 
I've attended two FSU games. One game was against Syracuse (my alma mater). It was hard to choose sides, but FSU won (of course).
Proudest career/life moment?
Refereed papers published in top journals
What's your favorite band? 
It's really hard to decide between Donna the Buffalo and Tony Bennett
What is the best piece of advice you've ever received?
"Study Study Study" (thanks Dad!)
If money were no object, how would you spend your days? 
Hanging out with friends and family, playing music, and buying more shoes
What is your favorite book and why? 
Not to sound boring or religious, but the Bible has so far been the only book that has the unsearchable truth and wisdom to maintain my interest – for about 30 years now.
If you could be famous for something, what would it be? 
Being famous is probably not all that much fun. People pay too much attention to what you say and do. I prefer the unbridled freedom of relative obscurity.
What Jeopardy category could you clear, no problem?
Wacky Chinese Mythology please Alex
Do you have any pets?
I used to have a big Belgium sheepdog named Dobbin. We had a wonderful connection, and he was so dear. I have been looking for another one, but it has to have the exact same character as Dobbin.
When did you start working at Florida State University?
Fall of 2012
What was the last movie you saw in theaters?
Interstellar in an iMax theater – wow!
What is the best part about your job?
Bringing the "aha!" moment to my students – just after getting that "huh?" look.