Launched in November, Black Men in Tech (BMIT) is a new CCI project that focuses on strengthening the pipeline for young Black men interested in Science, Technology, Engineering, and Mathematics (STEM), with a focus on Information Technology (IT).  A recent grant from the Army Educational Outreach Program (AEOP) has given CCI's BMIT researchers and partners the important resources (supplementing CCI's current annual summer camp) they need to engage and prioritize underserved populations throughout the school year. BMIT students will work with qualified teachers who will receive direct instruction from FSU IT faculty and student ambassadors (Kevin Lapommeray, Cameron Gelin, Yale Bruce, Woodolph Myrtil, and Joseph Ashebo)
and be mentored by African American IT industry professionals. The BMIT project will culminate in three in-person events at FSU to present projects in game design, web design, and videography. These events will give participants the opportunity to share their experiences with their greatest supporters: parents, family, and friends. Through a concentrated pipeline and culturally responsive approach, BMIT will provide early technology opportunities to young Black male high school students that will increase engagement and curtail low technology program retention rates.
BMIT targets four schools: Amos P. Godby High School, James S. Rickards High School, Florida State University School (FSUS), and the Florida A&M University Developmental Research School. These partners will set up information hubs and work on lesson plans for BMIT's first 24 students. Each school principal shared their enthusiasm over the BMIT project:
Douglas Cook, Rickards High School principal, shared, "I believe this rare and precious opportunity to educate our young African American males about the advancement of technology is priceless. The very thought of seeing more young African American males in middle and top management IT positions in the future will empower our young males to explore their options as they decide their professional careers. We are elated to have this opportunity to work with our partners, Dr. Faye Jones, and her staff, at Florida State University."
"As a developmental lab school focused on best practices and research in education, we are so excited to be a part of this program," noted Megan Brink, FSUS principal. "Collaborations such as these are so impactful as they can bring and grow experiences, learning, and engagement to underrepresented populations. This experience is particularly exciting because it brings together students from other schools, postsecondary educators, and industry leaders to explore a plethora of IT topics. I can't wait to see where this project will take our students and how it will impact future research!"
Michael Johnson, FAMU DRS superintendent, concurred: "We are excited to be able to partner and provide this opportunity for our students. I believe that technology is one of the gateways to a future and providing this opportunity will get our students even closer to academic and work success."
According to Desmond Cole, Godby High School principal, "This is a tremendous opportunity for our young men. The hands-on opportunities and exposure is worth its weight in gold.  Our students can only benefit from participating.  This is a huge win for all stakeholders. We are immensely proud of the partnership that has developed between FSU and Amos P. Godby High School."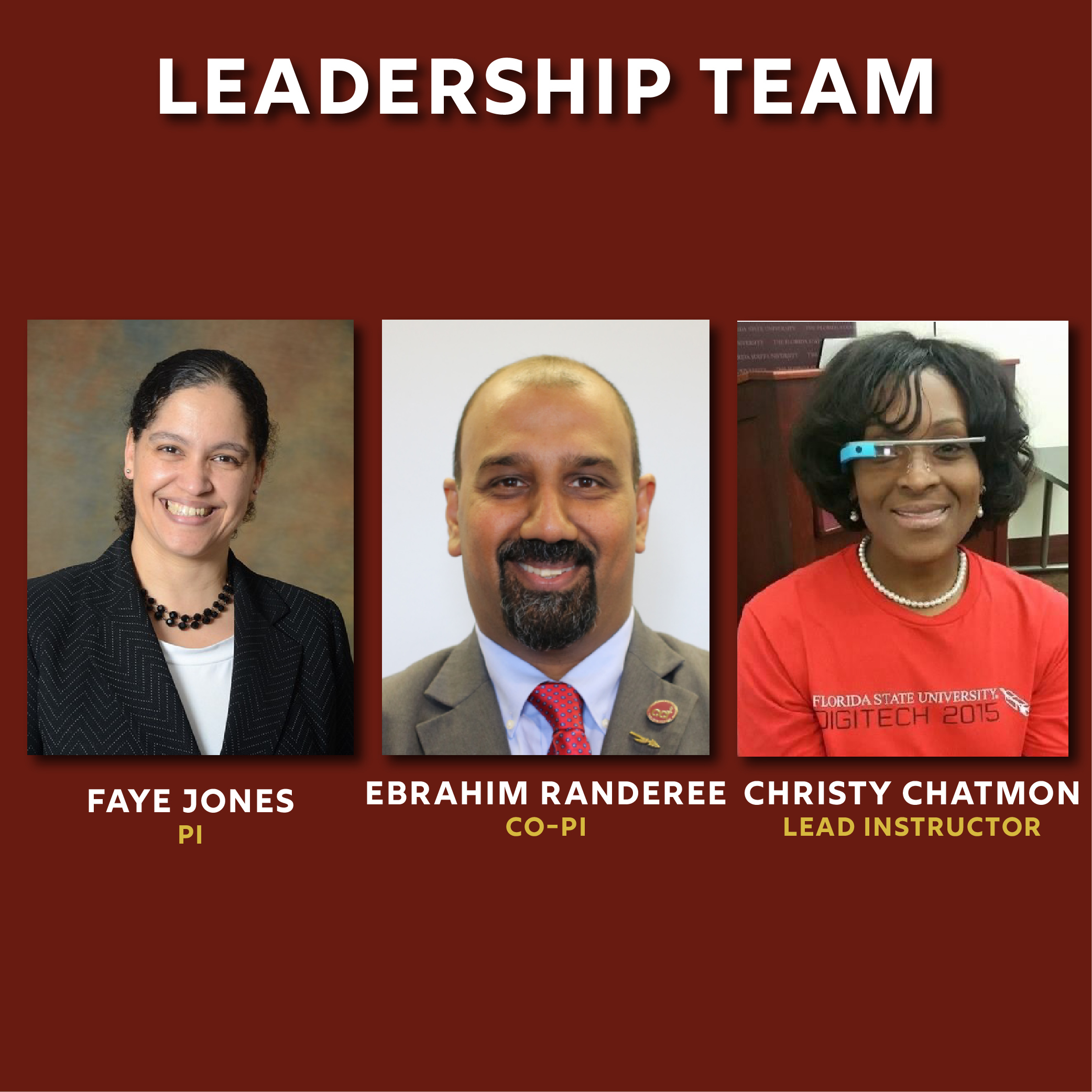 Black Men in Tech is led by Faye Jones, PhD, Faculty Researcher at Florida State, and Ebrahim Randeree, Associate Dean of Finance & Administration. Award-winning CCI faculty member Christy Chatmon will be BMIT's instructional lead.
Dr. Jones emphasized that "this project could not be successful without the dedication of some of the most talented computing, engineering, and technology educators in Leon County." Participating teachers include: Alejandro Gonzalez (2021-2022 Teacher of the Year and CTE educator at FAMU DRS), Michelle Hartsfield (CTE Educator in Commercial Media, Technologies, and Sculpture at FSUS), Wendy Chan (Engineering and CS Educator and recipient of the 2021 Aspirations in Computing Educator Award at Godby HS), and Dr. Cecil Washington (CTE Department Lead and Educator at Rickards High School).
For more about the College of Communication & Information and its projects, click here.