Florida State University College of Communication and Information (CCI) Associate Dean for Innovation and School of Information Professor Dr. Paul F. Marty was the keynote speaker at the virtual International Congress of Museums and Digital Strategies (CIMED) hosted by the Polytechnic University of Valencia on March 25, 2021. His presentation titled "Contributions of Museum Technology Professionals during Times of Crisis" advocated for the important role that museum technology professionals play in keeping museums connected with their communities.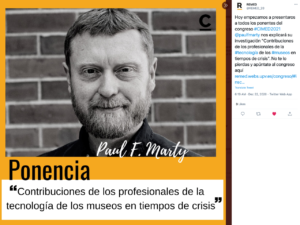 "There was a great turnout," said Dr. Marty. "There were about 400 museum professionals at my talk, mostly from Spain, but some from all over Europe."
Dr. Marty's speech explored how museum technology professionals can contribute during times of crisis and discusses how museum leadership can take advantage of said contributions. He also investigates how museum leadership can encourage their staff to develop the digital skills, mindset, and strategies that can help museums adapt to better survive future crises.
"The International Congress of Museums and Digital Strategies was born from the imperative need to design and integrate new communication strategies between our museums and cultural institutions, as well as between them and the public, in an emergency that has worsened after the crisis generated by the COVID-19," said conference organizers. "It is urgent to react, devise and design short, medium and long-term plans, which allow facing an uncertain future with certain guarantees of operation and efficiency, understanding by this the fact of continuing to reach the public with the multiple possibilities offered by ICT. This is the role that the I International Congress of Museums and Digital Strategies – CIMED wants to play. It is about implementing technological solutions at a training level and understanding the environment itself that makes up social networks. The CIMED Congress aspires to become a space for exchange and discussion at the forefront of the advantages and difficulties of digital technologies in museums."
To learn more about CIMED, click here.