Dr. Stephen McDowell, Florida State University School of Communication Professor and FSU Assistant Provost, leads international initiatives across the University. With Center for Global Engagement Director (CGE) Dr. Cynthia Green, Dr. McDowell spoke at the Innovations in Internationalisation at Home Conference 2021 hosted by Universities UK International and the University of Kent on April 23, 2021.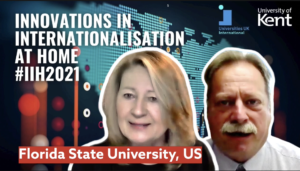 The panel on Internationalization at Home on which they presented had participants from Africa, Europe, the United Kingdom, and the United States. Pre-recorded interviews with panelists were also posted online. The session focused on the variety of intercultural and international opportunities that are offered to students at different universities.  These activities create a rich cultural learning experience so that all students have an opportunity to develop intercultural competencies as part of their university experience. Drs. Green and McDowell were invited to the conference after conducting a case study for Universities UK International where they shared FSU efforts in internationalization at home throughout the FSU community.
Internationalization at Home is a concept that developed in 1987 in Europe and was implemented at universities around the world to enhance student learning.  FSU's efforts are modeled after Dr. Milton Bennett's Development Model of Intercultural Sensitivity which shows that increased intercultural competence and sensitivity are gained through ongoing interactions with people of other cultures.
Dr. Green and CGE staff collaborate with campus partners to provide intercultural and educational activities and programs which bring international and domestic students together.  These events are designed to include social, cultural, educational, and experiential engagement, and help students expand their global awareness by interacting with people from other cultures.
"Providing students with these types of activities allowed them to join in where they felt most comfortable and begin meeting and interacting with people of other cultures and then expanding horizons by engaging in programs leading to expanding their world view and toward accepting and appreciating cultural differences," said Dr. Green.
"These interactions do not often happen naturally and so providing places to get together, like CGE's International Coffee Hour, is a key mechanism in allowing these contacts to form," said Dr. McDowell. "Many students are not able to go on exchanges or study abroad, so these activities can engage students across campus. They are an important part of our internationalization strategy."
Students can also enroll in the Global Citizenship Certificate program and create a path towards intercultural competency by attending events and taking courses with an international perspective. They also have the option to participate in a sustained intercultural or international experience to complete the certificate.
"International students are an important part of our university," said Dr. McDowell. "Being at a university is a great opportunity for all students to get to know each other and reach outside our regular groups to get to know someone from another country."
Dr. McDowell expands upon this point in CGE's Diversity Talks Podcast. In the April 13th episode, he spoke about the importance of including a global perspective in student learning. He explains the benefits of having a virtual space to connect with people around the world to learn from their experiences, and encourages students to participate in global learning and intercultural experiences both at home and abroad.
To listen to Dr. McDowell's full podcast episode, click here.
Click here to view Drs. McDowell and Green's presentation at the Innovations and Internationalism at Home Conference.