Recently Dr. Elizabeth Madden, School of Communication Science & Disorders (SCSD) Assistant Professor, and Ellen Nimmons, SCSD Faculty Clinical Supervisor, received a $4,000 SCSD Translation Research Award for collaborative research. 
Dr. Madden explained "The award Ellen Nimmons and I received is a new award funded by the School of Communication Science and Disorders that encourages a research faculty member and clinical faculty member to collaborate and help translate work from the lab setting into the clinical setting or vice versa."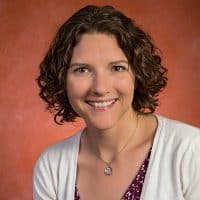 Mrs. Nimmons and Dr. Madden received the award for their study "Implementing Literacy Treatment for Aphasia in the Clinical Setting" which aims to further the literacy treatment previously piloted with two people with aphasia on a larger scale and in a clinical setting. Aphasia is an acquired language disorder that results from brain injury and that affects a person's ability to talk, understand, read, and write. Mrs. Nimmons and Dr. Madden's work at SCSD deals largely with this disorder, Mrs. Nimmons hosting weekly aphasia groups and working as the faculty clinical supervisor for the ACE (Adult Community Enhancement) Team which focuses on assessing and treating individuals with aphasia and Dr. Madden serving as the director of FSU's Aphasia Lab which focuses on developing behavioral treatments that help people with aphasia improve their communication. 
Mrs. Nimmons and Dr. Madden have ensured that SCSD students are also able to participate in the study. In fact, two speech-pathology Master's students currently work under the supervision of Mrs. Nimmons and Dr. Madden as the therapists to participants in the study and SCSD undergraduate students who volunteer in the aphasia lab are able to assist in the study through data analysis and entry. Dr. Madden shared her and Mrs. Nimmons's goals for their research, saying "We hope the aphasia literacy treatment we are studying will be effective at helping people regain reading and spelling abilities and other aspects of communication. We also hope this project will help us learn how best to integrate research and clinical practice in SCSD and the FSU Speech & Hearing Clinic."
To learn more about the FSU Aphasia Lab, click here.