The article below was written by Dr. Bill Edmonds of Florida State University's Institute for Successful Longevity.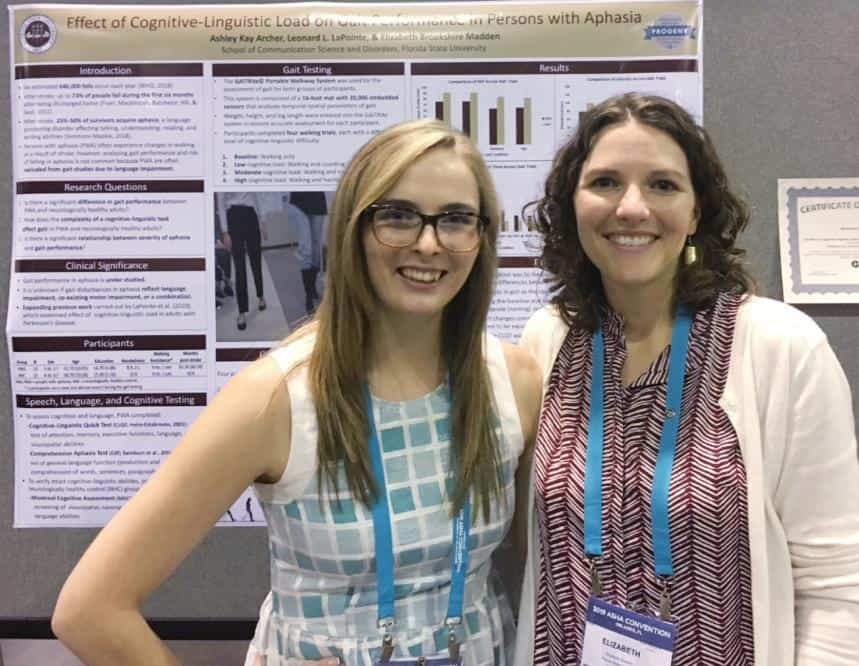 Ashley Archer wins ISL Poster Day competition with presentation on walking and aphasia
Ashley Archer, a graduate student working with ISL Faculty Affiliate Elizabeth Madden, Ph.D., won the Institute for Successful Longevity's Student Poster Day competition, with her poster on her research on stroke victims and aphasia.
Archer was one of six ISL graduate students in the competition, conducted online due to Covid-19.
In the competition, graduate students showed their posters and explained their research and took questions from other graduate students, faculty and a three-judge panel.
Archer's poster and presentation, "The Effect of Cognitive-Linguistic Load on Gait Performance in Persons with Aphasia," summarized her work so far on victims of stroke and the problems they have with aphasia, the diminished speech ability that afflicts many stroke victims. Archer looked at how the demands of speech can cause problems with walking in some people with aphasia.
Archer is pursuing a master's degree in the School of Communication Science & Disorders, part of FSU's College of Communication & Information. Her work on aphasia began when Archer was still an undergraduate student. "My senior thesis, 'Gait Disruptions in Persons with Aphasia,' highlighted the impact of injurious falls and how persons overcoming a neurological deficit, i.e., aphasia, may be at an increased risk of falling," Archer said.
Her research specifically focused on individuals who were diagnosed with aphasia and the effects on gait when engaged in cognitive-loaded tasks (such as counting, categorizing, and conversing) while walking. "The results of this study suggest that caution may be warranted when engaging in dual-task activities with individuals with aphasia," Archer said. "After stroke, up to 73 percent of people fall during the first six months after being discharged home. I believe these data reinforce the relevance of this study, as persons with aphasia from a result of stroke may show gait disturbances."
Archer is continuing this examination of the effects of cognitive-linguistic load and walking in her graduate-level work. "I want to further understand how aphasia might influence the dual-task activity of talking and walking," she said.
Madden, Archer's major professor, praised Ashley as a student who is very dedicated to her academic, research, and clinical work. "She has a natural rapport working with stroke survivors and carried out her work in a professional and caring manner," Madden said. "She is currently re-analyzing the data she presented at the ISL poster event for her master's thesis. Her research is clinically relevant and is helping us to better understand the impact that aphasia might have on dual-task performance, particularly simultaneously talking and walking, which is a common everyday task that many people take for granted."
Other graduate students in the poster competition were:
Holly Clarke, "Can Creatine Supplements Help Attenuate Vascular Aging?"
Christopher Schattinger, "Assessment of Muscle Mass in Transcatheter Aortic Valve Replacement Patients Over 6 Months Post Procedure."
Matthew Martenson, "Tissue Oxygenation, Ankle-Brachial Index, and Subjective Measures of Performance in Peripheral Artery Disease Patients."
Mahyar Ghorbanzadeh, "Spatiotemporal Analysis of Highway Traffic Patterns in Hurricane Evacuation: A Case Study of Hurricane Irma in Florida."
Michael Prevratil, "The AUGMENT Project: Predicting Wayfinding Difficulty Within a Community Sample of Older Adults."
"This was our first Student Poster Day, and we were pleased with the quality of the posters and presentations," said Neil Charness, Ph.D., Director of the Institute for Successful Longevity. "The competition showed the high quality of research on longevity underway at the graduate level here at Florida State University."