Every year the iSchools organization hosts its annual iConference, a gathering "of a broad spectrum of scholars and researchers from around the world who share a common concern about critical information issues in contemporary society," says the website. This year, iConference held its first ever Undergraduate Symposium on March 30 in Washington, D.C.
The Undergraduate Symposium aimed to present students in iSchool programs with the opportunity to network with other students and professionals in their field. Students went through a selective application process which included answering several essay questions about their plans regarding their career choice.
Three students from FSU, Rhiannon Jacobson, Bridget Kabacinski, and Karla Vazquez, were chosen to represent Florida State for the inaugural event. While at the Symposium, the students were able to learn about other iSchools across the nation, discuss post-graduate job opportunities, as well as give and receive advice on how to manage a healthy work/life balance.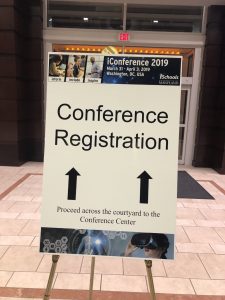 Jacobson is a junior double majoring in Political Science and Information, Communication and Technology. She is also President of the Students & Technology in Academia, Research, & Service (STARS) Alliance at FSU. Jacobson enjoyed her time at the Undergraduate Symposium and said, "I had the privilege to connect and build my network with students and professionals from all over the world who share similar professional interests as I do." While at the conference, Jacobson was able to discuss the importance of iSchools with her peers and explore ways to implement them in more universities.
Kabacinski, a senior studying Information, Communication and Technology and the President of Women in IT/ICT Sharing Experiences (WISE), was excited to get to attend the first symposium while she had the chance. "Since this was the inaugural Undergraduate Symposium, I want to see it evolve into something bigger and better," she says. "I think it's a great opportunity for students to interact with their peers who are pursuing similar career paths and share what they've learned or what they want to know more about."
Vazquez, also a senior majoring in Information, Communication and Technology, was able to use the conference as a stepping stone to post-graduate success. "The Undergraduate Symposium created a powerful environment where undergraduates were able to speak openly about their experiences, goals, and worries. Using the advice I learned during the Symposium, I will now better understand how to navigate post-graduation plans, as well as use my iSchool education to push frontiers in innovative ways," she says.
This year's symposium allowed for the iSchools organization to understand what students are learning and what they are interested in. In the future, iSchools hopes to use that knowledge to expand the symposium and allow undergraduate students to present their own field-related research. Needless to say, Jacobson, Kabacinski, and Vazquez hope to make it back to the iConference in the future.
To hear more about their experience, check out their videos from before and after the Symposium.
The Joel and Cheryl Rosenfield Endowment funded the travel fees for Jacobson and Kabacinski. Shared with the FSU Department of Chemistry & Biochemistry and FSU College of Arts & Sciences, this endowment is intended to "promote and support professional organizations and/or student professional organizations," with priority given, but not limited to, members of WISE. Jacobson and Kabacinski express their sincere gratitude to the Rosenfields for their great generosity that afforded them this experience.