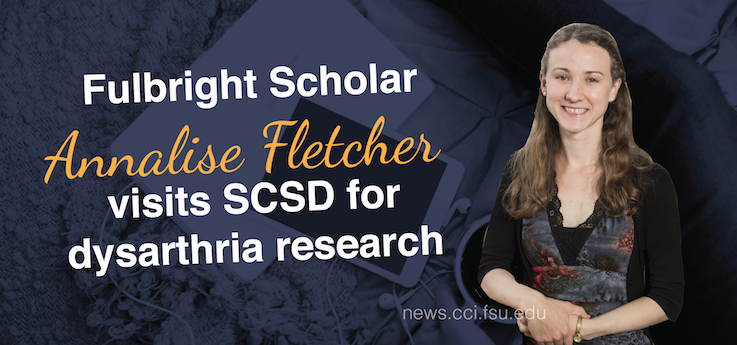 This Fall there will be a new face in the School of Communication Science & Disorders: Fulbright Scholar Annalise Fletcher.
Fletcher is a PhD student in her final year at the University of Canterbury in New Zealand. Interested in speech production changes in aging speakers and those with neurological disorders, a disorder known as dysarthria. She was recently awarded a Fulbright scholarship and plans to study in the United States for six months at Florida State University and Arizona State University.
Part of Fletcher's doctoral thesis investigates effects of different speech therapy strategies on listeners' understanding of dysarthria speech. Dysarthria is a speech disorder that arises as a consequence of neurological disease or damage. Through her research, she aims to determine which speech features best match a treatment strategies for the disorder.
Her work is closely tied to Dr. Kaitlin Lansford's research in dysarthria classification. Due to her shared research interests, Fletcher's Canterbury advisor, Dr. Megan McAuliffe, introduced the two. Two years ago, Lansford signed on as her associate PhD advisor and has since served as a mentor to Fletcher.
Last November, Fletcher visited FSU and the School of Communication Science & Disorders while traveling for a conference. The enthusiastic culture in the School sold Fletcher on Florida State.
"There are many challenges when moving to a foreign country," said Fletcher. "Attending a school that had friendly and enthusiastic students and faculty, in addition to a strong program of research, was very important to me."
Fletcher joined Dr. Lanford's lab in July and will be at Florida State until late November. They aim to combine their research interests and determine the best treatment approaches for a speaker based on characteristics in their baseline speech.
Lansford serves on Fletcher's PhD supervisory team, alongside Dr. Megan McAuliffe of University of Canterbury and Julie Liss of Arizona State University. During her time stateside, Fletcher will spend two months researching with Dr. Liss at Arizona State.