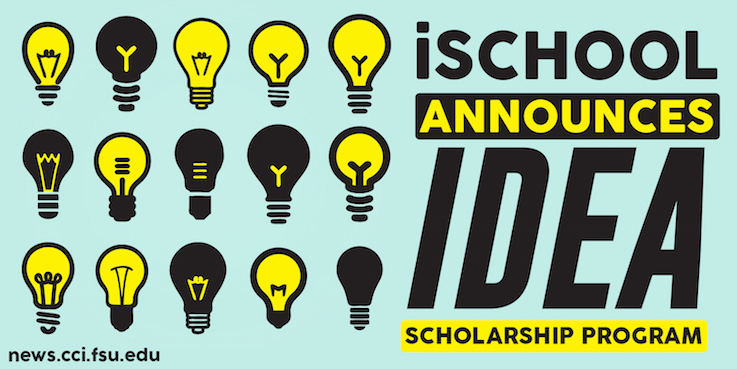 Florida State University's iSchool has unveiled a brand new opportunity awarding six Master's students with full-ride scholarships. The IDEA Learning Community emphasizes Innovation, Digital-fluency, Entrepreneurship, and Advocacy as foundational values of the information professions. The students attend full-time and graduate within a year.
In addition to having tuition and fees paid for, Project IDEA students entering in Fall 2015 benefited from a paid quarter-time graduate assistantship. Students also have the opportunity to participate in shared activities and connections with other participants, iSchool faculty, staff and future employers.
The iSchool's Project IDEA Learning Community is built around the idea that in addition to firmly grasping the information skills and practices that FSU's iSchool has provided for generations, today's information professionals need to develop professional dispositions that embrace and support the importance of emerging technologies in the lives of those they serve.
According to the program's lead instructor and advisor, Dr. Chris Landbeck, "It's not enough to know how to run a certain piece of device or software; they need to know if this technology is something that people would want and use."
Additionally, the program works to foster a community by including as many IDEA Scholars in the same courses as possible. Despite the fact that it is not practical for MSIT and MSLIS students to have every class together, the program's directors have worked it out so that each IDEA schola has at least one familiar face in each of their classes. IDEA scholars admitted this fall are pursuing careers in health informatics and web development and administration.
Up to six more students will be admitted in Spring 2016. Successful applicants will demonstrate a strong career interest in health informatics or digital youth. In future semesters, IDEA scholars will be recruited in these areas and others, such as information management, digital libraries, social media management, systems analysis, systems security analysis, and web development and administration.
To learn more about how to apply to join the IDEA Learning Community, see the IDEA Learning Community web page. Additionally, general information about the MSIT program can be found here, and general information about the MSLIS program can be found here.