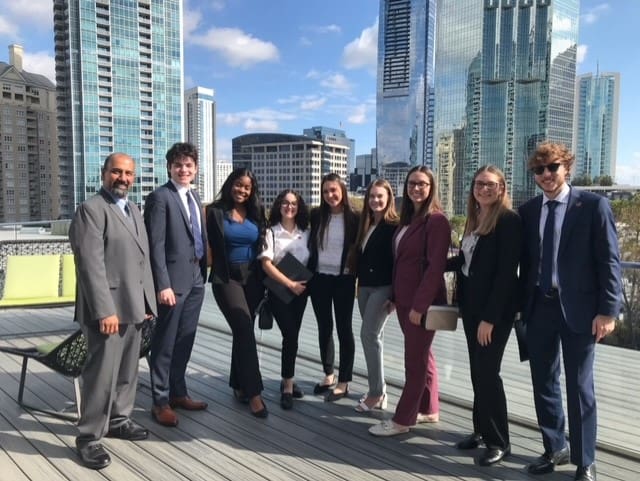 In early November students in the FSU STARS program traveled to Atlanta, GA to meet with six companies over the span of two days to learn about corporate culture, job opportunities, company growth trajectories, as well as what it takes to land a position at a corporate company. Students were also able to see what it would be like to be your own boss working at a start-up (intrapreneurs and entrepreneurs).
STARS (Students & Technology in Academia, Research & Service) Alliance is a National Science Foundation funded program to increase the participation of women, under-represented minorities, and persons with disabilities in IT/computing disciplines through multifaceted interventions (https://www.starscomputingcorps.org/).  STARS has been active at FSU since 2006.
Students Alyssa Goosby, Elyssa Horne, Olivia Kennedy, Emma Roberts, Aya Saludo, Lauren Scala, Owen Van Lenten and Brendan Woyt visited General Motors, Atlanta Tech Village, State Farm, The Home Depot, Meta and Chick-Fil-A. With students across multiple programs in the College of Communication and Information, this trip gave valuable insight across all areas of each company.
"Since I am a senior looking for a career in IT, it was a great opportunity to get a glimpse into a wide variety of companies, especially within the heart of Atlanta," says senior IT student, Owen Van Lenten. "Personally I don't have that much exposure to cities outside of Florida, so seeing how current employees operate and live in their respective cities was great as I could put myself in their shoes and imagine my future."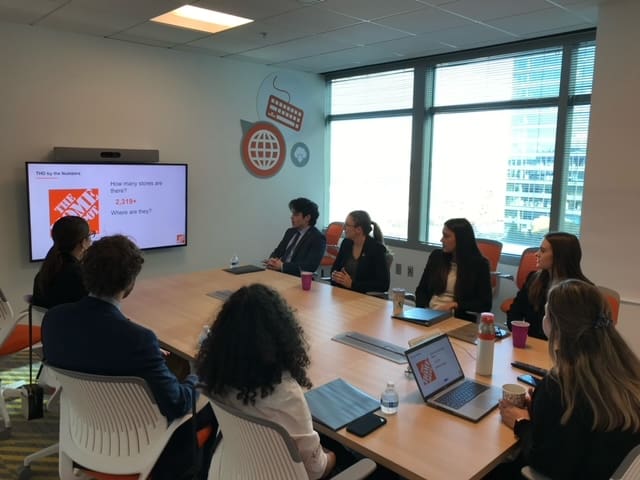 Elyssa Horne, a graduating IT senior said, "This trip not only taught me a lot about what different tech companies are doing to grow and drive innovation but more personally, how to successfully navigate in the tech industry as a new graduate. Our group had the opportunity to hear opinions and stories from various people in all kinds of positions throughout their companies and I believe that speaking, understanding and connecting with them helped not only me but my peers as well to create more meaningful relationships among each person we talked to."
While in Atlanta, the students hosted alumni from STARS and CCI for dinner to talk about jobs, internships, and more ways to further their professional development.  With over 20 STARS alumni in attendance, the event was a huge success.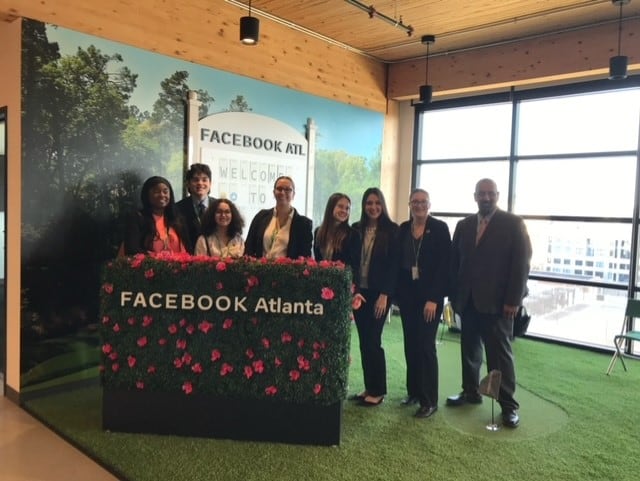 "The time I spent in STARS helped me develop my communication and networking skills that I use in my job today as I collaborate with team members from all over the world, all remotely, so being able to effectively communicate the goals we are targeting is very important," says STARS alumni Billy Norcilien. "The biggest piece of advice I can give to students looking for a job is for you to articulate that you have a growth mindset and have the ability to problem solve."
"I love getting to meet and speak with current STARS students. I really enjoy being able to share any insights I have learned about work life since I graduated and being able to share industry trends that companies are using now that may not be learned/taught in the classroom," says STARS alumna Hannah Brock. "Don't be afraid to reach out to former alumni at the companies you are interested in to learn about what they do and what they like about their company and if they have jobs that they could refer you to. We have all worked hard to create a network so don't be afraid to use it."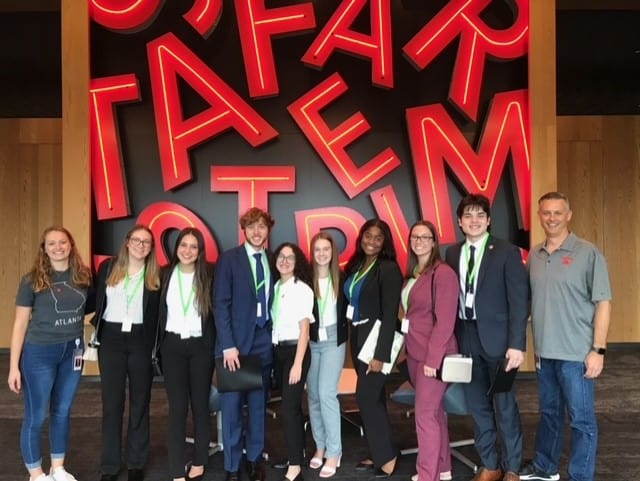 Associate Dean for CCI Ebe Randeree organized the trip for STARS.   "The visit was a success.  Given our limited travel during COVID and many companies operating with hybrid or remote workforce options, we had not traveled in three years to meet our corporate partners.  It was good to get back to visiting our partners and our alumni.  It was evident that we have a strong relationship between employers, alumni and CCI.  The company recruiters were willing to help students prepare for careers in their specific fields, identify internship and employment opportunities, and connect with students.  Touring the facilities and meeting the FSU alumni that work there gives you an inside look to what each company has to offer and the work environment they possess.  Connect our current students with STARS alumni was also a highlight – these alumni are ready to help in any way and have always provide advice and shared opportunities with our current students."
To help STARS promote FSU programs to middle and high school students around the state and to help fund trips like these, consider donating to their SparkFSU campaign here.