On September 24th, first year graduate students from the School of Communication Science and Disorders took part in a workshop focusing on specialized skills training in Speech-Language Pathology. Over the past 7 years, this program has prioritized creating comfortable environments for students to practice hearing screenings and oral examinations in preparation for their fieldwork.
Students gained hands-on experience developing skills performing oral mechanism evaluations, such as evaluating the muscles and structures used for swallowing and speech. "First-year students were mentored by second-year graduate students who had an opportunity to shine while SCSD clinical instructors observed the process," shared Ellen Nimmons, SCSD Faculty Clinical Instructor.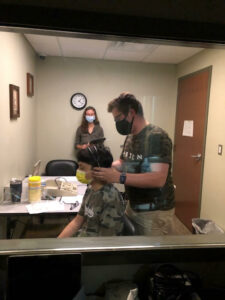 "My experience at the SCSD BootCamp was nothing but amazing," shared Hannah Guzman, graduate student at FSU. "Being able to administer an Oral Mechanism Exam, while receiving the support of my peers and clinical supervisors, was such a great learning experience and solidified my choice in pursuing speech pathology. The first-year students are so thankful for the amount of time and preparation that our clinical supervisors put into BootCamp, and are prepared for a successful second half of the fall semester."
"My experience in bootcamp made me significantly more comfortable with hearing screenings and oral mechanism exams," shared Paige Lovell. "I enjoyed working with a second year who was able to provide her own experience in using these tools in her clinical placement. Applying this knowledge to real life applications allowed me to process the importance of each of these tools and made me excited to use them out in the field one day."
In 2018, Caitlin Fechtel, graduate student at the SCSD, commented on the experience, explaining how these opportunities are rare within these programs at other schools. She shared, "a lot of times schools just offer observation, but we actually get to do it, get feedback on it, and learn how we can improve." The ability to be mentored by second-year grad students provides first-years with a knowledgeable leader and peer, while helping the others gain leadership skills and experience in these roles.
To learn more about previous School of Communication Science and Disorders Bootcamps, click here.