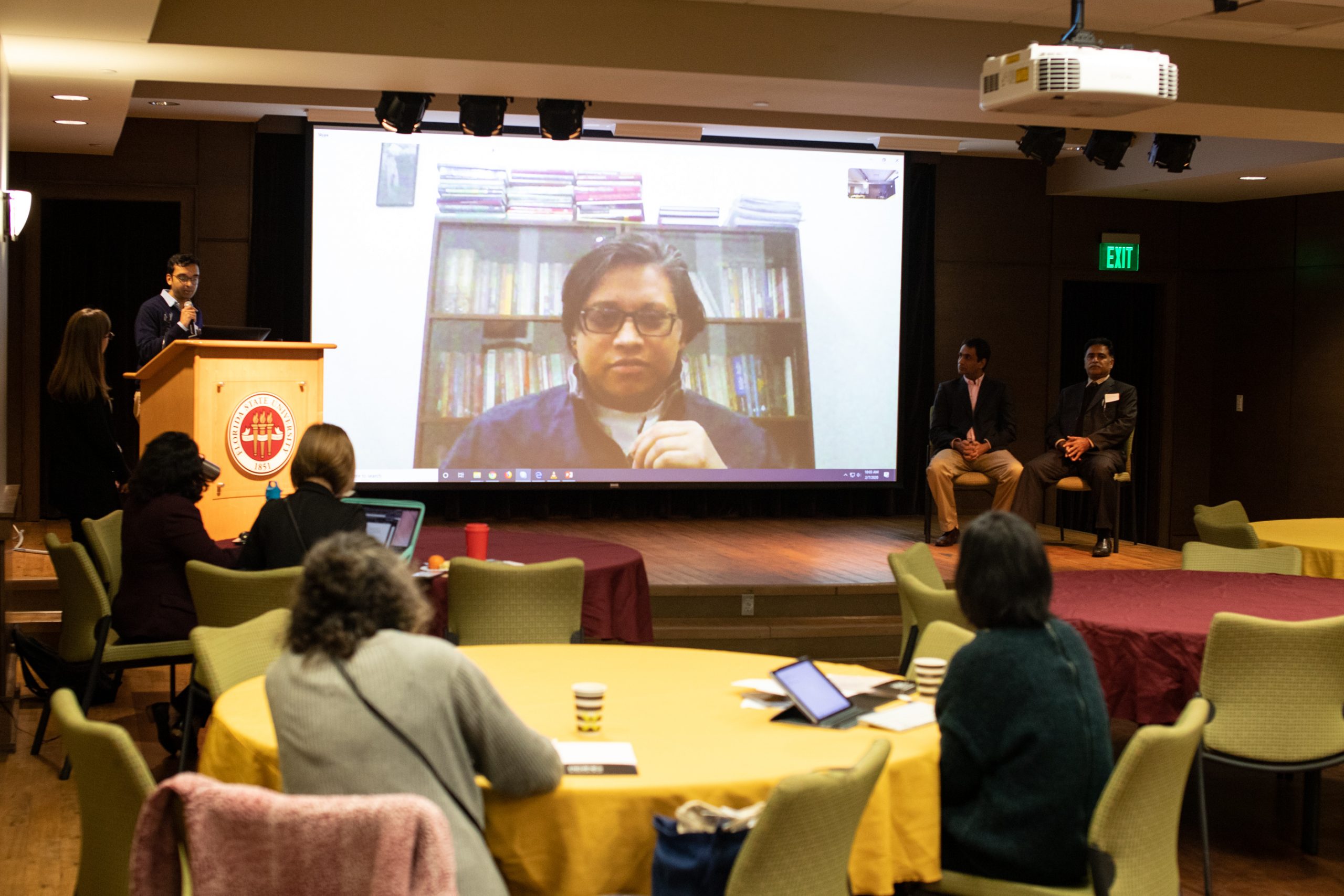 Year after year, FSU's South Asian Media and Cultural Studies (SAMCS) conference has brought world-class research to Tallahassee. This year's sixth annual event was no different, as the event's open theme of "Rising Voices" brought presentations from a number of scholars in South Asia. Many of the presentations were virtual, connecting the in-person attendees of the conference to dozens more across the world. The 2020 SAMCS conference took place on February 7th at the FSU Center for Global and Multicultural Engagement building.
FSU College of Communication and Information (CCI) partners with the College of Social Sciences and Public Policy and the Center for Global Engagement to host this event each year. Dr. Stephen McDowell, Assistant Provost and John H. Phipps Professor of Communication is one of the main organizers of the SAMCS conference. "We've had a great opportunity and experience to incorporate both student and faculty work on South Asian Media and Cultural Studies from Florida State University and visiting students and faculty from other universities," McDowell said.
The keynote speaker for SAMCS 2020 was Dr. Radhika Parameswaran, Herman B. Wells Endowed Professor and former director of the journalism department in the Media School at Indiana University, Bloomington. "Conferences like this are an important political and academic intervention into the South Asian Media and Cultural Studies field," said Dr. Parameswaran. She delivered her presentation, "Rising Voices of the Indian Diaspora: A New South Asian Workforce Enters American Journalism."
Awais Saleem (pictured to the left) earned his Ph.D. in Communication from FSU in 2017 and is now an Assistant Professor in the Department of Communication and Media at Lamar University in Beaumont, Texas. He presented his paper titled, "Women on wheels creating a spectacle for empowerment" in an afternoon session of the conference. "I believe that the South Asian region has a lot of potential," said Dr. Saleem. "But, it has not been studied well so far. I would encourage everybody to take this opportunity and bring their work here at the South Asian Media and Cultural Studies conference at Florida State University."
Vaibhav Diwanji, a Ph.D. candidate in Communication, is also on the core organizing committee for the SAMCS conference. In addition to serving as the Executive Director this year, Diwanji presented "Hate speech and misinformation on social media: examining the current cultural context in South Asia" with FSU School of Communication Assistant Professor, Dr. Katherine Dale, and virtual presenter Thant Sin. This is Diwanji's fourth consecutive year participating in the conference. As a main organizer this year, Diwanji made exciting new contributions to the event including a booklet documenting SAMCS. It is available to view here.
This year, much of SAMCS's program was completed virtually. With seven of the scholars coming from South Asian countries like Pakistan and India, the talks were done in pre-recorded video and shown to the in-person audience during the conference. Then, the scholar answered any questions from the audience in real time via a video call. This incredible conference environment was live-streamed on the SAMCS Facebook page, further connecting FSU to the global scholarly community.
"The hybrid nature of the conference, combining in-person and virtual presentations, has been a huge success and greatly appreciated by our attendees," Diwanji said. "The benefits are mutual as our presenters don't have to worry about travel costs and visa-related issues, and our audiences get to interact in real time with scholars from different South Asian countries. A lot of planning goes into such technology-enabled events, and I greatly appreciate the patience of the presenters and the support from our wonderful College of Communication and Information team in making this possible."
Check out the a full video recapping this year's conference by clicking here.