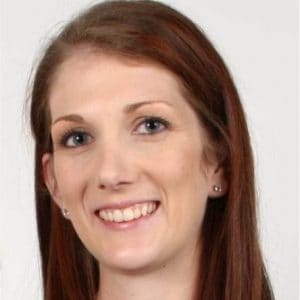 iSchool alumna Abigail Goehring ('15, M.S. Information) has recently been promoted to Librarian 2 at Battelle Memorial Institute in Columbus, Ohio. As one of the world's largest non-profit independent research and development institutions, Battelle is committed to driving innovation and discovery.
"Our work crosses all aspects of scientific research, from national security to agribusiness to national laboratory management," Goehring says.
Before making the move to Battelle, Goehring attended NYU where she received a B.A. in History. She then worked in a series of academic and military libraries, such as the Fort Bliss Mickelsen Library, before heading back to school for a degree in Information from FSU.
After graduation, Goehring worked at a small company created by her and her husband, Divergent Consulting Network, before accepting a position with Battelle as a corporate library assistant in 2014. She has been working in her new librarian role since late 2018.
In her new position, Goehring is responsible for providing reference services to Battelle's scientists, as well as the day-to-day functions of the library such as cataloging, resource selection, and budgeting. This year Goehring plans to work specifically on "integrating the library into strategic programs that benefit the institution," she says.