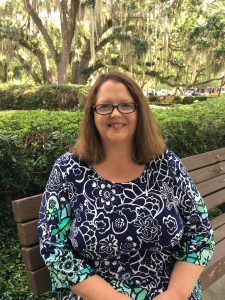 When most people think of rehabilitation, their first thoughts may include the words "physical" or "occupational," but certainly not "vocational." For iSchool alumna Lea Ann Gates (M.S. '07 Information Studies) vocational rehabilitation plays a huge part in her job. Vocational rehabilitation is the process of helping people with disabilities find and maintain employment. "This is accomplished through a variety of services, such as medical, educational, work readiness training, etc.," Gates explains.
She works as the Senior Instructional Design Consultant for the Florida Department of Education, Vocational Rehabilitation Division. "80% of our staff are supervisors, counselors, and technicians that work directly with our customers and my job is to develop solutions to help our field staff perform their jobs even better."
For Gates, this means doing a variety of tasks throughout her day. Whether she is covering the help desk, developing a webinar script and corresponding PowerPoint, or narrating an online module, no day is typical. And Gates wouldn't have it any other way. "I love the variety of the tasks I get to do and love the nature of the instructional design field; you have to become somewhat of a subject matter expert yourself to be able to develop instructional materials on a particular topic," she says.
Gates decided to pursue instructional designing when she heard of the position for the first time while at FSU. "We hired an instructional designer in my department at FSU. I'd never heard of the field until that time and it really piqued my interested," she explains. After finishing her Masters in Library and Information Studies, she decided to pursue her Masters in Instructional Systems as well. "I feel that holding degrees in both majors dovetail quite nicely. The research skills I learned from my Information Studies degree come in handy as I research a topic for instructional materials development," Gates continues. She especially found her Technical Writing class a great aid for her current career as it helped prepare her for developing good job aids.
When looking to the future, Gates is excited to continue challenging herself to learn new ways of designing instruction as technology continues to change and improve. "My degrees from the College of Communication and Information laid a great foundation for that," she adds. She is also excited to begin training for her fourth half-marathon walk. She began race walking in 2016 after a close friend recommended the fun sport. Since then she has participated in several races and looks forward to traveling to Maui for her next one. "I love the feeling of accomplishment when I cross the finish line!"