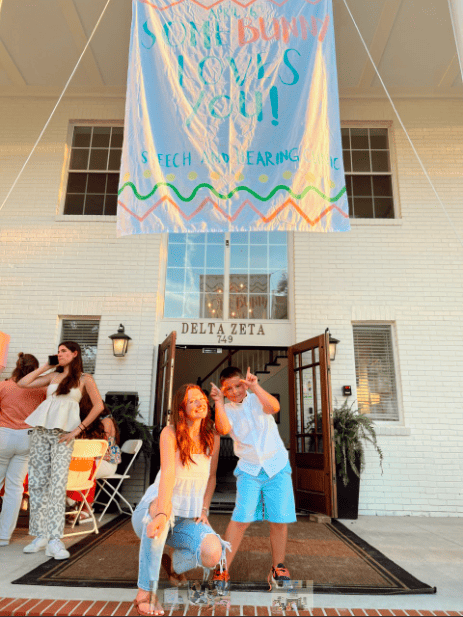 The Alpha Sigma Chapter of Delta Zeta (DZ) hosted another successful philanthropy event that benefitted children and families from the L.L. Schendel Speech and Hearing Clinic.
"SomeBUNNY Loves You!" brought together 20 children from the Clinic and over 50 adults for an evening of fun, games and food at the DZ house. The sisters of DZ volunteer their time during the event by engaging with the kids through various activities such as coloring, crafting, and Easter egg hunting, while parents and professionals from the clinic spend time speaking about their shared experiences with raising kids who are diagnosed with hearing difficulties.
"My favorite thing, by far, has to be seeing the children's faces light up when they return for another event," says Hailey Sheppard, a Communication Science and Disorders student and the Vice President of Programming for DZ. "I am always excited to plan the Speech and Hearing Clinic events and welcome the kids and their families back to our home. Seeing them be excited and enjoying themselves with us is the best reward."
SCSD Faculty member Linda Sasser told CCI, "One takeaway is that our graduate students get the opportunity to see their clients in a social situation and are able to see how the child communicates with others, but the biggest takeaway is families knowing that they are not alone!"
The School of Communication Science and Disorders and the Speech and Hearing Clinic are excited for future opportunities and events with the sisters of Delta Zeta.
The Speech and Hearing Clinic is happy to announce this year's Listen Camp that will be held at the FSU Reservation from July 31-August 4. To learn more about Listen Camp click here.