The Center for Hispanic Marketing Communication (HMC) in Florida State University's College of Communication & Information (FSU CCI) hosted the fifth edition of the International Spanish Documentary Festival, Puntos the Vista (Points of View), on April 10 and 11, 2014.
"Puntos de Vista" promotes the creativity and originality of documentaries written and produced by Hispanic students in communication and film studies from the United States and other countries.  Every university and production team was responsible for creating their own work.
"The main purpose of this event was to encourage the expression of different perspectives through subject matters that will help us grow as communicators and as a society," said FSU School of Communication Assistant Professor and Center for HMC Associate Director, Dr. Sindy Chapa. "The festival promotes cultural and academic ties among students and develops the students' interests in significant social issues in their countries of origin, thus increasing awareness and education."
During a month window towards the end of 2013, communication, media production and filmmaking undergraduate students/faculty in colleges and universities across the U.S., Latin America, the Caribbean and the Iberian Peninsula were invited to submit video entries.  To be eligible and considered, the submissions had to take the form of a 15-20 minute Spanish documentary and include English subtitles.
The festival committee, consisting of filmmakers and faculty, selected the best documentaries to participate in the "Puntos de Vista" festival events.  The final round of documentaries took part in an online voting process before the events.  Winners were selected by the combined results of the online public voting and judges' scores.
The top contestants showed their work and competed for a first place prize of $2,000, a second place prize of $1,500 and third place prizes of $1,000.  Dr. Chapa gratefully mentioned "Thanks to the festival's sponsors, this year's event was another great success and we were able to grant third place awards to teams from two universities."
A total of 19 students from the U.S., Colombia, Peru, Mexico and Puerto Rico visited the campus in Tallahassee, Fla. and over 150 FSU students attended these events.  The festival was open to the public and all documentaries included English subtitles.
The screenings showed a variety of short documentaries that covered several genres and topics.  In addition to the documentary screenings and presentation of prizes to winners, "Puntos de Vista" featured various speakers.  CCI Dean, Dr. Larry Dennis, and FSU football player, Josue Matias spoke at the Welcome Ceremony on April 10.  The next day, awards were presented at a ceremony luncheon held in the Globe Auditorium by Dr. Felipe Korzenny, Professor and Director of the Center for Hispanic Marketing Communication, Dr. Chapa, who serves as the Puntos de Vista Committee's President, and Dr. Maria Pouncey, Administrator for Instructional Services at Panhandle Area Educational Consortium.
"Puntos de Vista" concluded with the annual "Lazos: Celebrating Latinidad" event, in which the participants and attendees celebrated Hispanic culture and heritage.  Final speakers were Tarik Noriega, Economist with the Florida Office of Public Counsel, and Juan Escalante, Researcher at Florida Center for Reading Research and Communications Director for DreamActivist.org.
In the vote counting process that decided the final documentary winners, monetary prizes were awarded to the production teams that received highest scores (60%) from the evaluating committee, as well from the public (40%).  This year, there were a total of 8,647 online votes– 52% were from South America, 28% from Mexico and 13% from the U.S.
With regards to the evaluating criteria for the top documentary recognitions, the most important award granted by the judges is the Best Production Award.  This award was presented to an outstanding ethnographic study, conducted during a one-year of investigation, by student Elizabeth Suarez from Florida International University.  Other awards presented by the judges were the Best Cultural Contribution, Best Narrative, Best Social Contribution, Best Soundtrack, and Most Original.
Below is the full list of the winners for 2014.  You can view the videos for Best Production and/or the Best Cultural Contribution winners.
Third Place Award                                         $1,000 Prize
Best Production Award
Best Narrative Award
Florida International University, United States 
Documentary Title: "Sin rastro"
First Place Award (3,218 online votes)       $2,000 Prize
Best Cultural Contribution
Universidad de Lima, Peru
Documentary Title: "La palpa, mas alla de un ritual"
Second Place Award                                       $1,500 Prize
Universidad Cristobal Colon
Documentary Title: Ant'setik Mujeres / Ant'setik Woman  
Third Place Award                                         $1,000 Prize
Best Social Contribution
Universidad del Desarrollo, Chile
Documentary Title: "Discriminación homosexual en la aula"  
Best Soundtrack
Most Original Production
Universidad de Bucaramanga, Colombia
Documentary Title: "Por oro vienes, por oro vas"
Read a previous CCI event news article about the Festival published March 11, 2014 at: news.cci.fsu.edu/cci-events/fsu-to-host-2014-intl-spanish-documentary-festival
Find where "Puntos de Vista" was featured by Tallahassee Magazine at: tallahasseemagazine.com/
If you have any questions about this festival, contact Dr. Chapa at 850.645.8129 or email Sindy.Chapa@cci.fsu.edu.  
###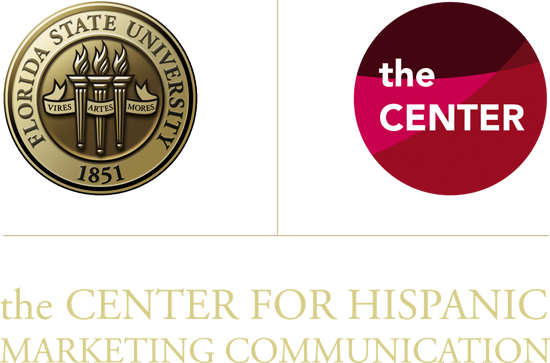 The Center for Hispanic Marketing Communication at the FSU College of Communication & Information is the first of its kind in the United States devoted to educating students and professionals in the field of Hispanic marketing and advertising.  The Center focuses on educating students and training communications professionals to better serve the U.S. Hispanic and multicultural markets.  Faculty and students working with the Center are conducting groundbreaking research and serving as an innovative resource for the marketing industry.
To learn more, please visit the Center's website, follow on Twitter.