Several SCSD researchers, students, and faculty members recently had the opportunity to showcase their work at the 9th National Symposium on Spanish as a Heritage Language (NSSHL).
The symposium was hosted by Florida State, and featured many important contributions from the School of Communication Science and Disorders (SCSD). SCSD hosted a full panel at the symposium, led by graduate student Diana Abarca. Abarca was joined by Dr. Estrella Rodriguez and Dr. Mollie Romano. Their panel focused on Latino family perspectives on early intervention practices for their young children. In addition to speaking on the panel, Dr. Rodriguez also served on the organizing committee for the event.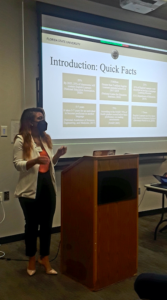 Dr. Rodriguez told CCI, "Our study was a rich multi-disciplinary collaboration. In interviewing a group of mothers, we considered clinical, cultural, and linguistic perspectives when analyzing their answers to inform early intervention providers about the funds of knowledge the families have." She went on to add, "We hope to expand these research findings by interviewing more parents in the future about the challenges children with disabilities face on the road to become proficient and functional bilinguals and productive members of society."
Graduate students Kiana Hines and Kaisey Fumero also presented at the conference. Alongside Dr. Carla Wood, they presented their work on the reading-comprehension skills of Spanish-English speaking 5th grade students.
To read more about the symposium and see the full list of research featured, visit https://9nsshl2022.fsu.edu/