Students from the STARS (Students & Technology in Academia, Research & Service) group recently returned from Orlando after attending and presenting at the Florida Technology Student Association (TSA) Annual Leadership Conference. TSA is a Department of Education encouraged activity that enhances technology education programs, build confidence, and provides extra-curricular and leadership skills for students.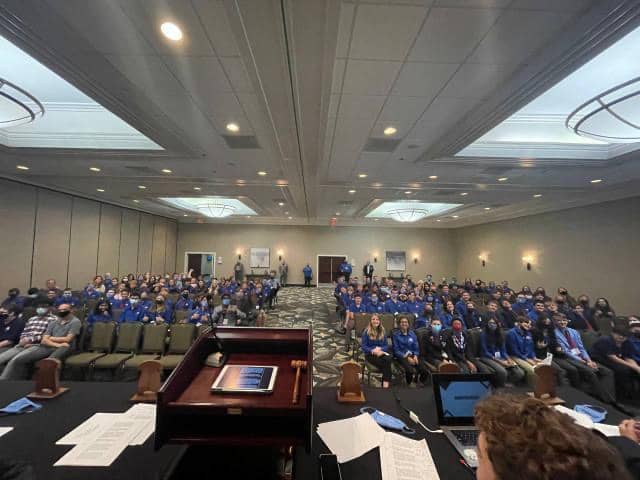 The mission of the TSA is to prepare its members for the challenges of a dynamic world by promoting technological literacy, leadership and problem solving, resulting in personal growth and opportunity. With over 400,000 national members and over 40,000 Florida members, Florida TSA is a leader in technology programs in the State. This was the first in-person event since COVID – with tons of hand sanitizers, branded TSA masks, and social distancing for the 200+ middle and high school STEM students. According to Justin Lauer, Executive Director, the "Florida TSA students are learning leadership skills along with technical skills that they will use in college and in industry. FSU STARS has helped facilitate student leadership activities at our annual fall conference, which has enhanced student development. It was great to see our organization overcome challenges to have our first in-person conference since COVID."
Five college students (Westen Zawacki-Dorweiler, Victoria Pratt, Stephanie Winningham, Mary Meberg, Alyssa Goosby, and Ebe Randeree) attended, mentored, and presented at the 2021 Conference.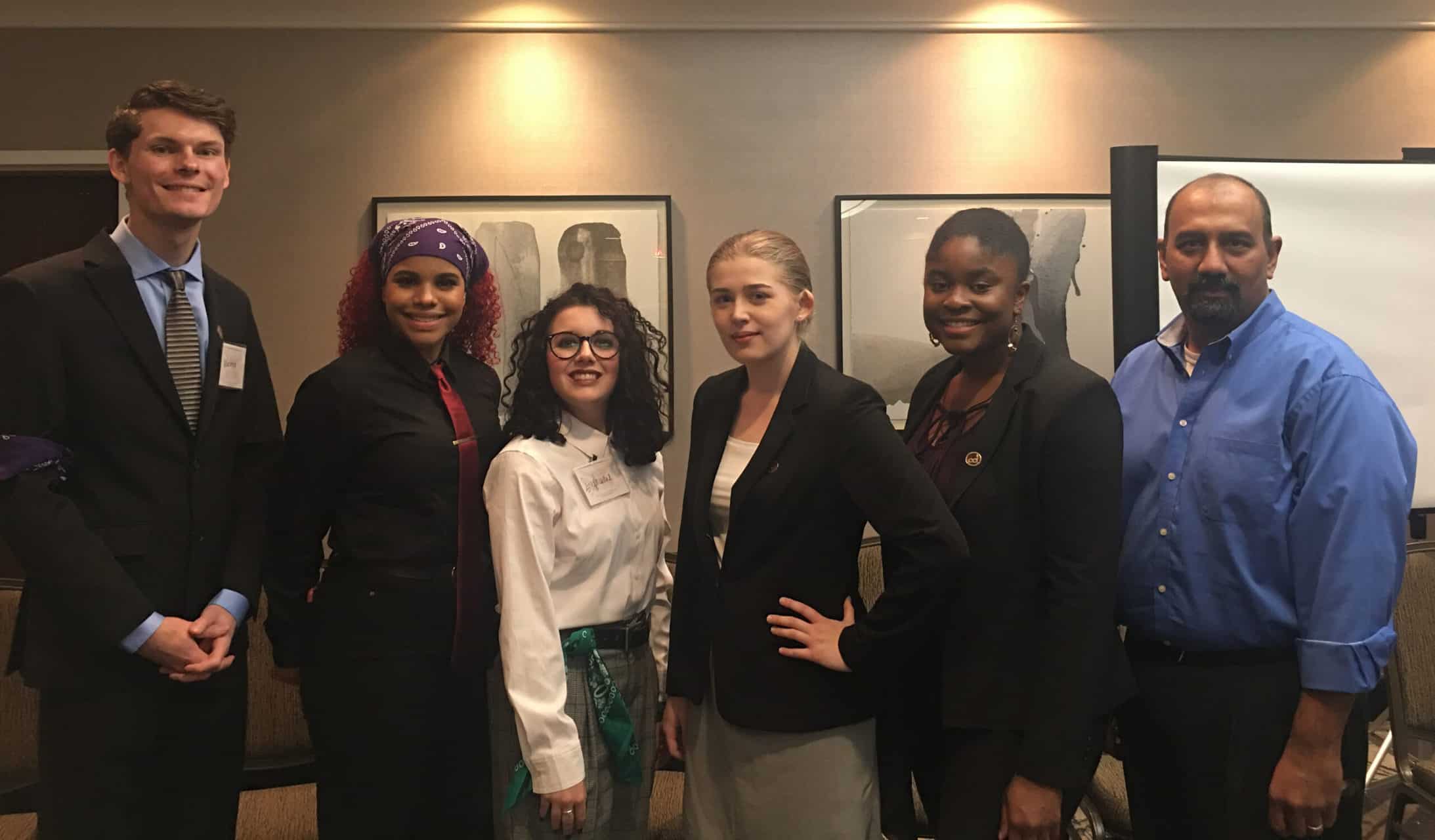 FSU Senior IT student and STARS President Westen Zawacki-Dorweiler was excited to give back to students and to share his knowledge. He reflected: "I remember the huge impact that university guest speakers had on my path when it came to career and educational goals, so it was incredible to provide similar guidance to the next generation of STEM leaders. I was blown away by the creativity, professionalism, and leadership skills shown by the middle and high school students, and I am eager to see what they will accomplish next."
FSU Junior ICT student and CGS President, Alyssa Goosby has been involved with outreach at FSU for 3 years. She reflected: "I had a great time being a part of this years TSA leadership conference! I remember how much student organizations like this one impacted me while I was in high school and it was amazing seeing it from a different perspective."  The FSU team worked with TSA student groups, mentored them, delivered 8 presentations, judged a Shark Tank event (based on a problem-solving exercise), and interacted with STEM teachers across the state.
Presentations included:
• Communicating for Leaders
• Building your Personal Brand (for Students)
• Building your Personal Brand (for Teachers)
• Effective Time Management Techniques
• Applying for Scholarships
• College 101 – A Panel Discussion
• Working with TSA/AEOP and Running Summer camps
• Partnering with Universities for Outreach
Current TSA Board Chairman and FSU alum Nathaniel Bostic (BS '05, Studio Art) said that "TSA helps to fill an important need in today's youth, giving them the opportunity to not only acquire but gain experience using both technical and soft skills to become leaders in today's technical world.  I am thankful for FSU to play a role in our events."
Ebe Randeree, Associate Dean at FSU's College of Communication & Information, serves on the TSA Board; he said that "having our college students engaged in developing the next generation of tech leaders, mentoring middle and high school, and practicing their leadership and communication skills is important for the success of our college students. The link with TSA is very important to our outreach efforts in the State and our goal to recruit more STEM students. These students are very talented and they will drive Florida's economy as they graduate and launch businesses and create jobs. It is our job to mentor them and to keep them here in Florida, in Florida universities, and launching Florida businesses."