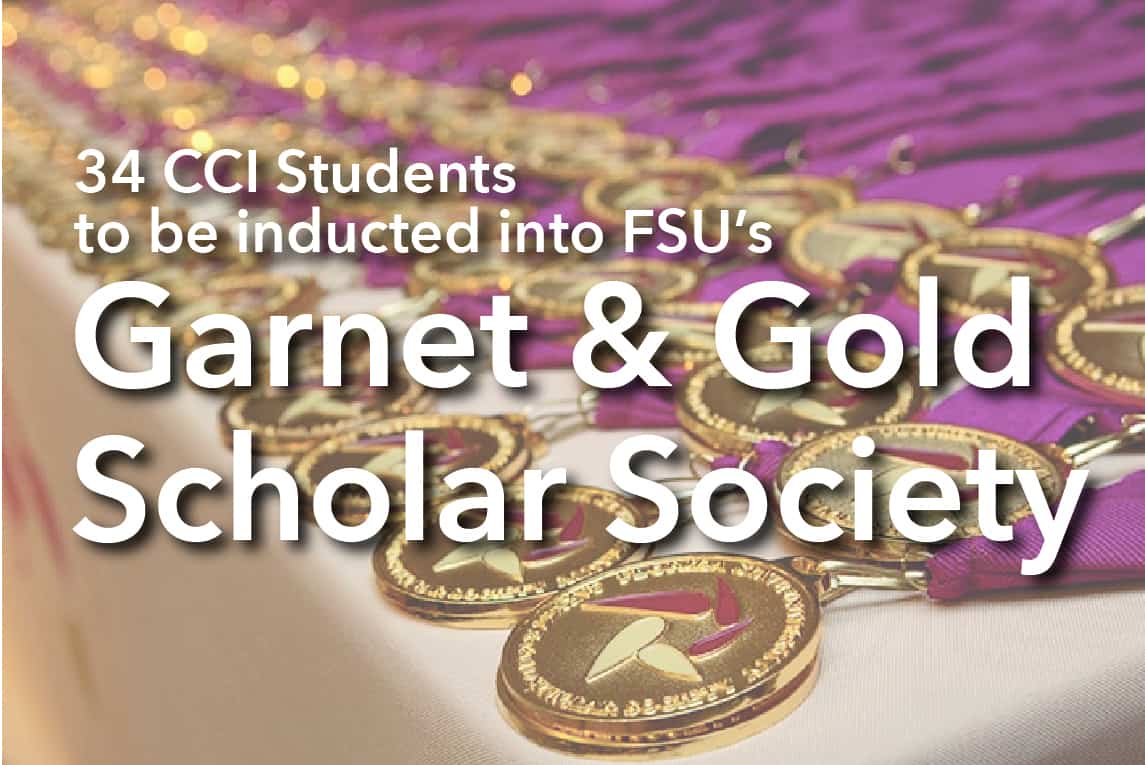 On the evening of April 25, 2019, the largest class of 313 students will be inducted into FSU's Garnet and Gold Scholar Society. Over ten percent of these future inductees are students from the College of Communication and Information.
The Garnet & Gold Scholar Society is a prestigious designation undergraduate students can earn upon graduating. These students submit a synthesis reflection project before graduating in order to be inducted, reflecting on their experience in three of five engagement areas: international experience, internship, leadership, research, and service.
A ceremony will be held on April 25 in Ruby Diamond Concert Hall to induct students into this prestigious group. Congratulations to all 34 CCI students!
Kaitlyn Bludau, Advertising
Emily Holt, Advertising
Cassie Nicolace, Advertising
Sarit Sandler, Digital Media Production
Katie Bernstine, Media/Communication Studies
Kadasha Eliacin, Media/Communication Studies
Mary Ann Montague, Media/Communication Studies
Maegan Stepp, Media/Communication Studies
Karen Duarte, Media/Communication Studies
Princess Gafaru, Media/Communication Studies
Allyson Corlett, Public Relations
Bethany Martin, Public Relations
Morgan Payne, Public Relations
School of Communication Science and Disorders
Katie Coffey, Communication Science and Disorders
Amara Ezenwa, Communication Science and Disorders
Fiona Mand, Communication Science and Disorders
Sarah Manning, Communication Science and Disorders
Kara Mase, Communication Science and Disorders
Emily Ng, Communication Science and Disorders
Courtney Otwell, Communication Science and Disorders
Malia Hart, Communication Sciences and Disorders
Bailey Oliver, Communication Sciences and Disorders
Jenna Wolff, Communication Sciences and Disorders
Elicia Smith, Information Communication and Technology
Caroline Cayll, Information Communication and Technology
Adia Celestine, Information Communication and Technology
Angela Ging, Information Communication and Technology
Bridget Kabacinski, Information Communication and Technology
Jayla Mitchell, Information Communication and Technology
Addlyn Teague, Information Communication and Technology
Khaina Duncan, Information Communication and Technology
Natalie Marcelo, Information Technology
Logan Saliga, Information Technology
Jonathon Zayas, Information Technology