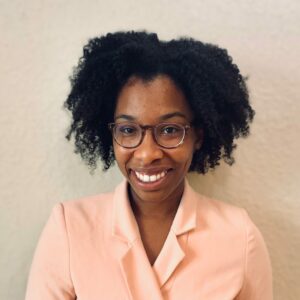 Shaylyn King, FSU School of Communication and Science Disorders (SCSD) doctoral student, is a recipient of the Florida Education Fund (FEF) McKnight Doctoral Fellowship for the 2021-2022 academic year.
This program was created in 1984 to address the underrepresentation of minorities in crucial disciplines at colleges and universities in Florida. Since its creation, the FAF has awarded more than 1200 Fellowships and plans to continue awarding them in the future.
For King, the Fellowship will provide an annual tuition of up to $5,000 for three academic years as well as an annual stipend of $12,000 to help her in her doctoral studies.
"Being selected for this fellowship is very humbling and I feel blessed to receive such an honor. I'm an FSU legacy student and received my bachelor's degree in 2013," said King. "I can remember feeling isolated by the lack of diversity in my program. I hope that I can be a mirror that helps other underrepresented students realize their potential in academia."
In addition to the financial award, King will also be given the opportunity to network with peers and other industry professionals across universities through FEF research conferences and mentorship programs.
"I have a research interest in non-mainstream dialects of English and language and literacy acquisition in minority children," said King. "Dr. Lakeisha Johnson is my advisor and I look forward to working alongside her and furthering my research. Dr. Johnson is great at partnering and investing in communities throughout Leon County. As a former educator, I see how critical these research community partnerships are and I'm thrilled to have the opportunity to be a part of that."
As her advisor, Dr. Johnson is proud of King's accomplishment and looks forward to her work in the future.
"Although I've only known Shaylyn for less than a year, she has struck me as a very determined and knowledgeable speech-language pathologist with passionate interests in language, literacy, and research-practice partnerships that benefit children from underserved and vulnerable communities," said Dr. Johnson. "She has shown her dedication to these communities over her entire career, and I'm thrilled to have the opportunity to mentor her at FSU. Shaylyn will be an asset to so many of our current and future projects!"