Three CCI students were recently recognized on this year's Homecoming Court.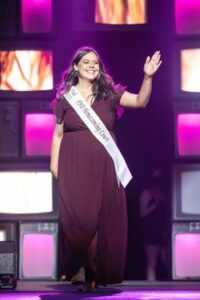 Luke Weaver (iSchool), Abby Cloud (School of Communication), and Emany Desinor (School of Communication Science and Disorders) were honored at the annual Homecoming Live! Event on October 22nd, 2021. Advertising student Abby Cloud was also honored as Homecoming Princess Runner-Up at the event.
"Being one of the 12 students chosen to represent Florida State University on their Fall 2021 Homecoming has been a huge honor in and of itself, but standing on stage at a sold-out Homecoming Live concert being announced as Homecoming Princess Runner-Up really allowed me to reflect on how FSU has blessed me in these four years." said Abby, "I am so grateful for every experience, organization, professor, peer, and community at FSU for helping me grow into the woman I am today."
Homecoming has been a long-standing tradition at FSU for over seventy years. Festivities include featured performers, Spirit Night, the Homecoming parade, and the football game. Students are selected for Homecoming court based on academic merit, involvements, and their contributions to the University. CCI is proud to have three students from the college nominated for the court.
To learn more about Homecoming, visit https://homecoming.fsu.edu/about-homecoming.