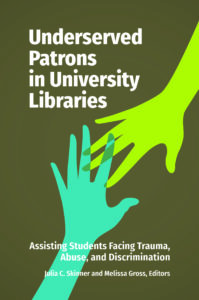 Julia Skinner ('15, Ph.D. Information Studies) and FSU School of Information (iSchool) Professor Melissa Gross have collaborated to publish a book titled, Underserved Patrons in University Libraries: Assisting Students Facing Trauma, Abuse and Discrimination.
The book serves as a collection of stories from contributors who have experiences with underserved patrons on college campuses, especially those facing trauma, abuse, and discrimination with the goal to teach readers practical skills that they can use in their work.
"We edited the volume, which includes chapters by practitioners and researchers in the field," said Skinner.
The pair chose to focus on students facing trauma due to the understudied nature of the area. "So many students face trauma and discrimination, whether or not we realize it," said Skinner. "Having more tools in our toolboxes to be able to meet people where they are and provide the information they need is a critical part of our work as information professionals."
The idea for the book first came to fruition while she took a research methods class with Gross at the iSchool. They published a paper that was prompted by work in Skinner's class about the information needs of sexual assault survivors. After some time, the publishing company ABC-CLIO reached out to Skinner and asked if she would be interested in making it a book.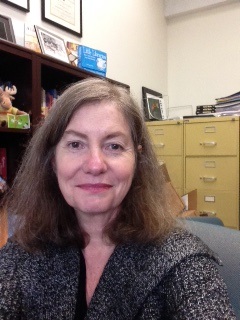 Having collaborated before on previous projects, Gross and Skinner were excited to work together again on something so important. "Julia and I were so pleased to work together again continuing to promote ways for librarians to better understand and serve the rich diversity of users they interact with every day," said Gross. "The chapter authors in our book did a wonderful job of covering a variety of underserved populations, providing theory and practical ideas for how to engage these populations in a meaningful way."
To Skinner, this book is a learning opportunity for readers to understand the nuances of helping underserved patrons and to remove some of the stigma surrounding them. "I hope this book serves as a jumping-off point for those looking to better serve their community through the academic library and serves as a jumping-off point for researchers as well," said Skinner. "This book covered a lot of important ground, but both researchers and practitioners have more work to do, and we'll go farther if we do it together."