The ongoing pandemic may have cut on-campus activities short for the Spring 2020 semester, but the Florida State University Office of University Communications was still able to wow the judges of the Council for Advancement and Support of Education (CASE). Their news show, Nole Talk News, won the team a national bronze CASE award in the category of "Digital Communications: Social Media – Student Life."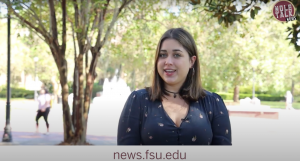 Nole Talk News is a 60-second news show hosted and produced by Florida State University students and full-time staff members of the University Communications team. "The short, social media friendly Nole Talk News show is definitely 'student powered,'" mentions Bayard Stern ('09, M.A. Media & Communication Studies), Social Media Coordinator in the Office of University Communications. "The entire University Communications team was critical in producing every episode of the show, working alongside the interns," said Stern.
Nole Talk News is the result of a transformation of the team's former news segment, The Big Story. "Nole Talk News was filmed outside with the beautiful FSU scenery behind us, had more of fun news feel to it, and new graphics," said former Social Media Associate, Mia Weinand ('20, M.S. Integrated Marketing Communication). "It was very team based, with each of the interns and I taking turns picking the stories, writing the script, filming, starring in the show, then editing it all together. Bayard and other University Communication team members would supervise the process and provide encouraging feedback. It was a great hands-on experience and we all were able to pick up a lot of useful skills from it."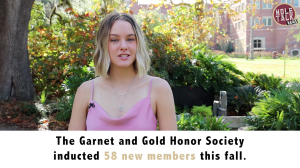 The vision was to produce a fast-paced show that would catch students' attention while still communicating key information. "To me, the CASE award is a testament to the wonderful ways the University embraces student creativity and pushes students to pursue things they're passionate about," said Rebecca Venner ('19, B.S. Media Communication Studies), a former intern on the team.
Nole Talk News was an effort of CCI students and a CCI alumnus, and its national recognition with the CASE award demonstrates how valuable mentorship and collaboration on meaningful projects are to the student experience. "As I went through the semester, I learned so many new skills from my supervisors and fellow interns that really solidified my love for media and communications," said Demetrius Winn ('20, B.S. Media Communication Studies). "I am beyond humbled that our hard work was recognized nationally."
"For this show to win a national CASE award," Stern remarked, "is meaningful to everyone on the University Communications team – and for the students who worked on it."
Congratulations to the CCI alumni and to the entire University Communications team!