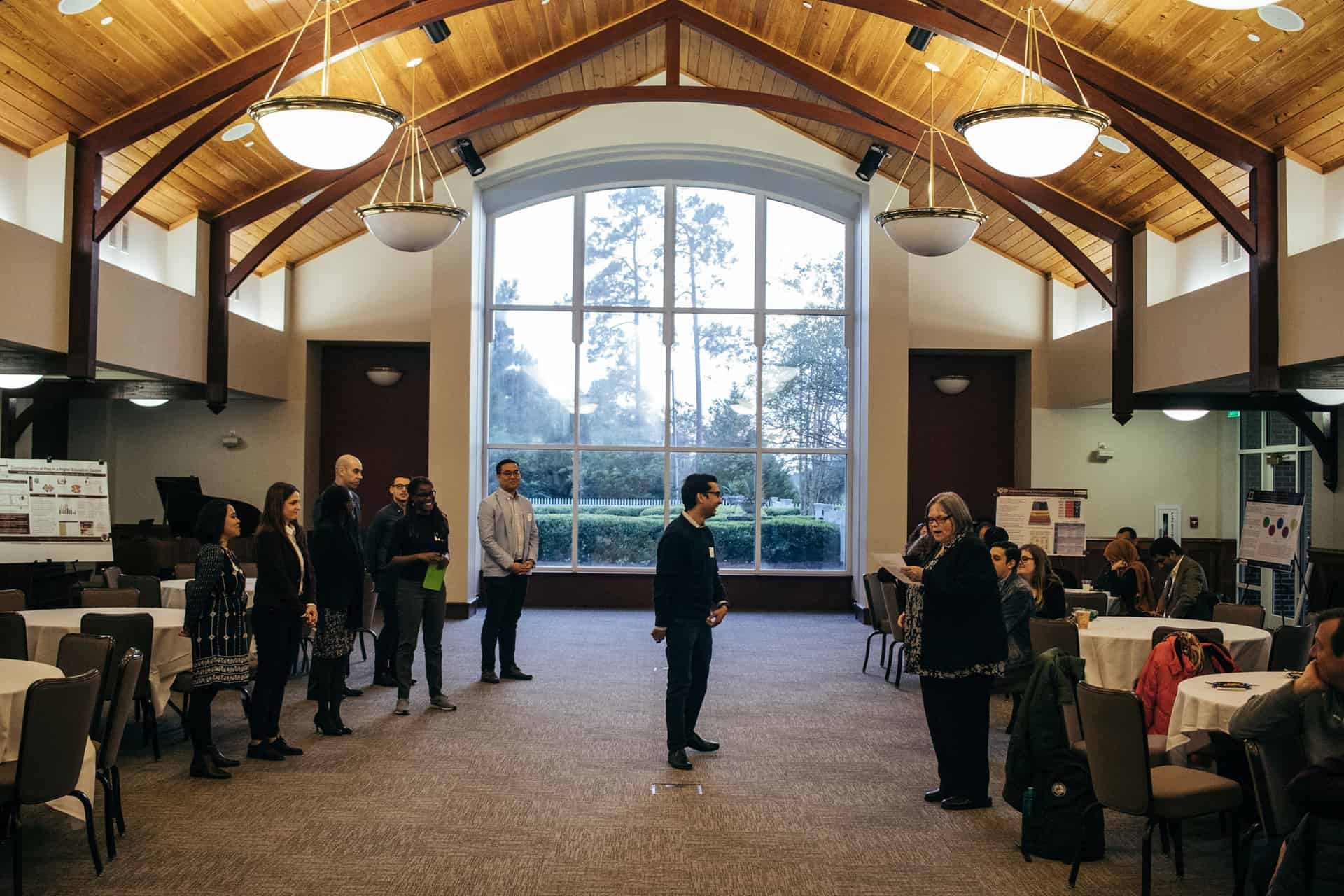 Over 46 College of Communication and Information doctoral students and faculty members gathered at FSU's Alumni Center Ballroom for the annual Doctoral Student Research Presentation and Reception on November 28, 2018. Twenty posters from the FSU's School of Communication, School of Information, and School of Communication Science and Disorders competed for travel awards.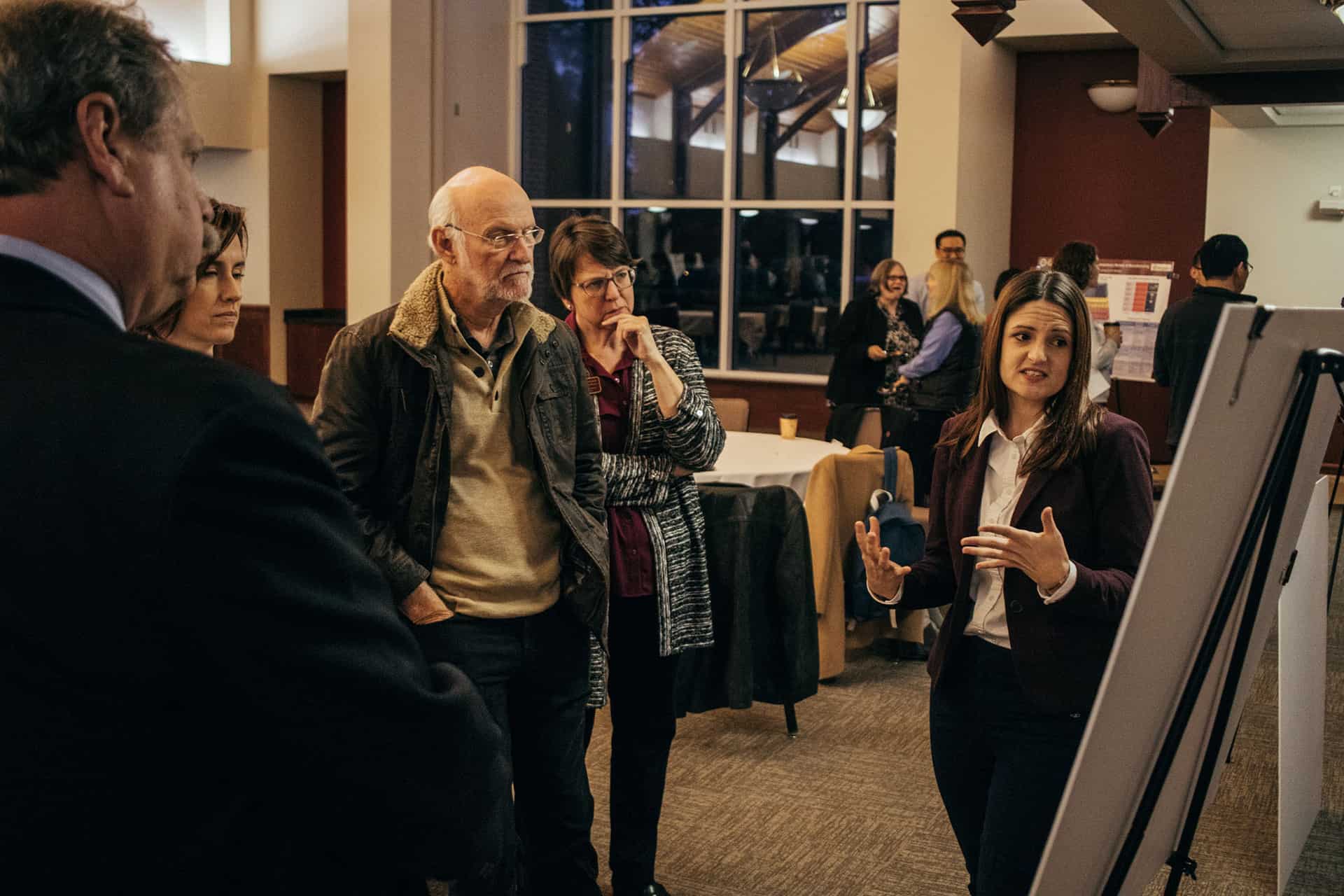 Winners include:
Best of School – $150 Travel Award
School of Communication
Laura-Kate Huse: Developing a CBPR Intervention: Examining the Protective Health Behaviors and Healthcare Seeking Barriers within Appalachia
School of Information
Christy Chatmon: Apprenticeships in IT Education: A Proposed Study
School of Communication Science and Disorders (tie)
Rachel Hoge: Subgroups of Spanish Language Ability among Preschool Dual Language Learners: A Latent Profile Analysis
Mary Claire Wofford: Language Input Intervention Using Visual Feedback: Impact on Adult Words Delivered to At-Risk Bilingual Children
$100 Travel Awards
School of Communication
Olivia Bravo & Sindy Chapa: Personal and Cultural Values: Associations with U.S. Millennials Attitude Towards the Boycott and Boycott Intention
Vaibhav Diwanji: Communication at Play in a Higher Education Context: Usability Testing of a University Website for the International Students
School of Communication Science and Disorders
Iris Davis, Amy Wetherby, Tia Walton-Walker & Elisha Gilbert: Is it Autism or Something Else?: ECE Teachers Concerns About Autism Spectrum Disorder
Clariebelle Gabas & Language and Reading Research Consortium: Linguistic Predictors of Theory of Mind in Spanish-English Bilingual Children
Jessica Hooker, Deanna Dow, Lindee Morgan, Christopher Schatschneider & Amy Wetherby: Psychometric Analysis of the Repetitive Behavior Scale Revised Using Confirmatory Factor Analysis in Children with Autism
Judges from the three schools included Russell Clayton, Jaejin Lee, Steve McDowell, Besiki Stvila, Yolanda Rankin, Kelly Farquharson, Andrea Barton-Hulsey, Toby Macrae, and Erin Ingvalson.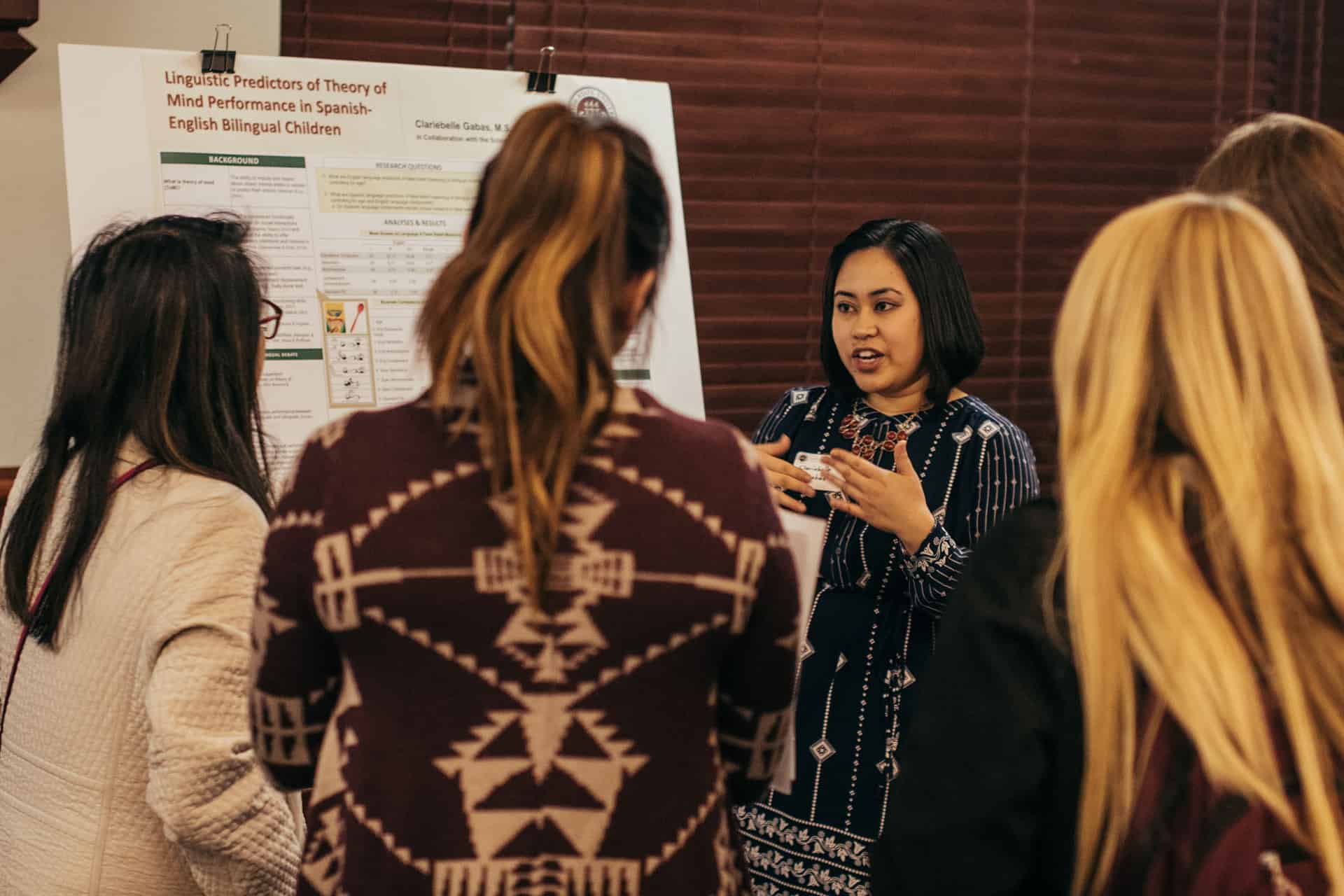 See below for a full list of participants:
School of Communication
Personal and Cultural Values: Associations with U.S. Millennials Attitude Towards the Boycott and Boycott Intention – Olivia Bravo & Sindy Chapa
Communication at Play in a Higher Education Context: Usability Testing of a University Website for the International Students – Vaibhav Diwanji
Transcaribe: Equitable Design or Further Marginalization? Exploring the Relationship Between the Socioeconomic Group and the Integration of a Bus Rapid Transit System – Nivia Escobar Salazar & Jessica Wendorf Muhamad
Developing a CBPR Intervention: Examining the Protective Health Behaviors and Healthcare Seeking Barriers within Appalachia – Laura-Kate Huse
Beyond the CrossFit WOD – A Prescribed Culture: An Examination of CrossFit Culture to Understand its Pursuit as a Primary form of Exercise – Sean Sawicki
The Financial Impact of Divorce on Women – Cindy Stewart
School of Information
Dual Language Information Seeking in Digital Libraries – Hany Alsalmi & Marcia Mardis
Apprenticeships in IT Education: A Proposed Study – Christy Chatmon
Supporting Professional and Peer Collaboration in Information Literacy for Middle School Instruction – Jeanna Cripe, M. Julia Strickland, Jessica Clark, Jessie Gortsema, Taylor Gwin, Michelle Pickett, Alisebeth Sandoval & Juliann Woods
Analyzing and Comparing Three Competency Models of Manufacturing – Sang Hoo Oh, Marcia Mardis, Faye Jones & Charles McClure
Shadow-IT and Insider Threat: An Assessment of an Opportunity Dimension for the ID-Theft – Asif Shaikh
Discerning Advanced Manufacturing Education Pathways: Insights from Rural Northwest Florida Program Origin Stories – Curtis Tenney, Marcia Mardis, Faye Jones & Charles McClure
School of Communication Science and Disorders 
Is it Autism or Something Else?: ECE Teachers Concerns About Autism Spectrum Disorder – Iris Davis, Amy Wetherby, Tia Walton-Walker & Elisha Gilbert
Late Talker or Autism Spectrum Disorder?: Early Measures of Expressive Vocabulary and Social Communication – Abigail Delehanty, Lindee Morgan, & Amy Wetherby
Linguistic Predictors of Theory of Mind in Spanish-English Bilingual Children – Clariebelle Gabas & Language and Reading Research Consortium
The Value of Text Structure: Key Features for Language Intervention – Shannon Hall-Mills & Leesa Marante
Subgroups of Spanish Language Ability among Preschool Dual Language Learners: A Latent Profile Analysis – Rachel Hoge, Autumn McIlraith & Language and Reading Research Consortium
Psychometric Analysis of the Repetitive Behavior Scale Revised Using Confirmatory Factor Analysis in Children with Autism – Jessica Hooker, Deanna Dow, Lindee Morgan, Christopher Schatschneider & Amy Wetherby
Language Input Intervention Using Visual Feedback: Impact on Adult Words Delivered to At-Risk Bilingual Children – Mary Claire Wofford