On February 2nd and March 2nd, 2022, first and second-year graduate students from Florida State's School of Communication Science and Disorders attended an event hosted by Florida Agricultural and Mechanical University. This event provided training and practice within interprofessional education, with FSU's participation coordinated by Ellen M. Nimmons.
"More professional training programs are engaging in interprofessional education where students from two or more professions learn together during all or part of their professional training to cultivate collaborative practice for providing patient-centered care," said Nimmons.
Over 200 students partook in each training, from backgrounds including nursing, social work, public health, pharmacy, speech-language pathology, physical therapy, and occupational therapy. First-year graduate st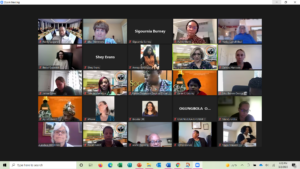 udents collaborated with students from other professional disciplines, taking on a case study and learning about teamwork within the field. Second-year graduate students discussed value and ethics surrounding these professional disciplines within a case study.
Sarah Cardona, a first-year graduate student studying speech-language pathology spoke on their response to the event, sharing, "I thought it was a great experience and I especially liked hearing patient perspectives in the realm of public health and social work. As an SLP-A I felt like I had experience working with OTs and PTs, but no experience working with the other related disciplines. It was great to hear their approaches to patient-centered care and brought to my attention approaching a case from different point of view." This practice event serves as an amazing opportunity for students to experience working in their field and collaborating with others, a skill that is vital within the medical field.
For more information on the School of Communication Science and Disorders, click here.