Article written by Hanya Noussier, current School of Communication student.
The College of Communication and Information is getting ready for FSU's Great Give annual giving campaign! Join CCI for 24-hours of online giving to make gifts toward projects supporting our students and faculty. Your generosity has been an integral part of our student and faculty success and advancement over the years. The online giving opportunity will run for 24-hours starting at 12:00 a.m. on March 9 to March 10 at 12:00 a.m. EST.
We are excited to invite you to support CCI's 12 special projects this year. Preview these projects now and be ready to support what means the most to you when they go live on March 9: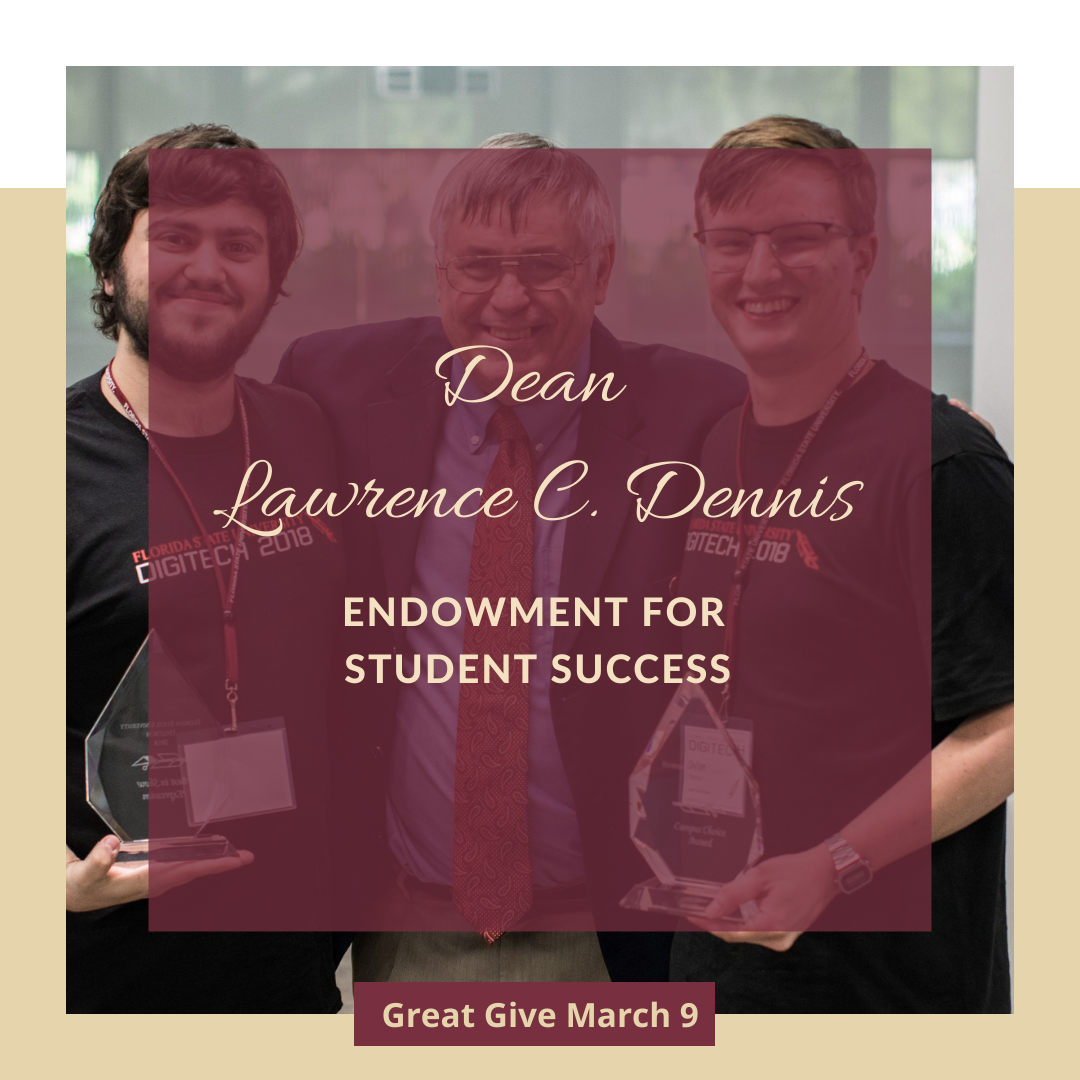 The Lawrence C. Dennis Endowment for Student Success project was created in honor of CCI Dean Emeritus Larry C. Dennis who has always been a student champion. Your gift to this fund will help support student success.
This year the School of Information celebrates 75 years of Excellence and 25 years of Online Learning which is a historic milestone. Your gift will ensure that our history of supporting student academic success will continue for many more years to come.
The School of Communication Science and Disorders looks forward to Supporting Student Participation in Conferences. Students in the SCSD programs gain valuable experiences through conference and convention participation, and through your support, they'll achieve success beyond their classrooms.
School of Communication Excellence Fund helps our undergraduate and graduate students conduct meaningful, cutting-edge research that explores issues.
Debate Now, More than Ever project helps students maintain a nationally competitive debate and speech program. Members of the Florida State University Debate & Speech team have consistently qualified to compete against many of America's finest undergraduate scholars. Participants develop skills in public speaking, leadership, critical thinking, time management and advanced writing and research. The program has consistently received top Florida rankings at state, regional and national competitions. The skills participants have learned have helped them become successful leaders in many fields.
Recruit The Best and Brightest Doctoral Students project helps the School of Communication recruit doctoral students by providing funding for research, conference presentations, and other academic and professional development opportunities.
If you are a School of Communication alum, there is a high chance you have heard of or were taught by Dr. Jay Rayburn. This year we are honoring him through raising funds for the Dr. Jay Rayburn Endowed Professorship. This endowment will help ensure the College maintains the level of professionalism Dr. Rayburn established at FSU, allowing the college to recruit a scholar with an impressive background in public relations and fund academic research for future developments in the field.
Dr. Mark Zeigler's dedication to his students and the university is unparalleled. Supporting the Excellence in Public Education Fund is an opportunity to honor his legacy. This fund provides resources and enhances the Public Speaking program in the College of Communication & Information, supports the critical activities of the program, and provides students with scholarships to prepare them to become successful 21st century leaders.
The Arrowhead Advertising team has a legacy of excellence. Your gift to the team will allow them to level the playing field for students and support them with any expenses needed.
The Roberta A. Christie Endowment for Hispanic and Latin American Initiatives project supports students interested in Hispanic and Latin Caribbean initiatives to excel academically and professionally. Funds may also be used to support undergraduate and graduate students' registration costs and travel expenses to relevant conferences and other directly related student activities.
WVFS Tallahassee 89.7FM, known as V89, provides students exceptional personal and professional experience. Funds raised will help them maintain round-the-clock broadcast, manage emergency needs, and upgrade station operations and facilities—including our current goals of establishing a fully operational podcast studio and digitizing our music catalog of nearly 40,000 pieces.
The Vangalis Zepp Family Gap and Stability Scholarship Fund provides much-needed support to students in formal or informal relative care, foster care, ward of the state, or classified as an unaccompanied homeless youth while in high school.
"With your generosity this year, we can reach new heights and help advance our college," said Mafe Brooks, Director of Development for the College of Communication and Information. She added, "We encourage all our students, alumni, faculty, staff, parents, and friends of the College to support projects that are near and dear to their hearts from our twelve different projects representing all of our three schools."
Please visit the Great Give Website and filter the projects list to the "College of Communication and Information" for more details. If you have any questions or concerns, please feel free to reach out to our Director of Development, Mafe Brooks (mafe.brooks@cci.fsu.edu).