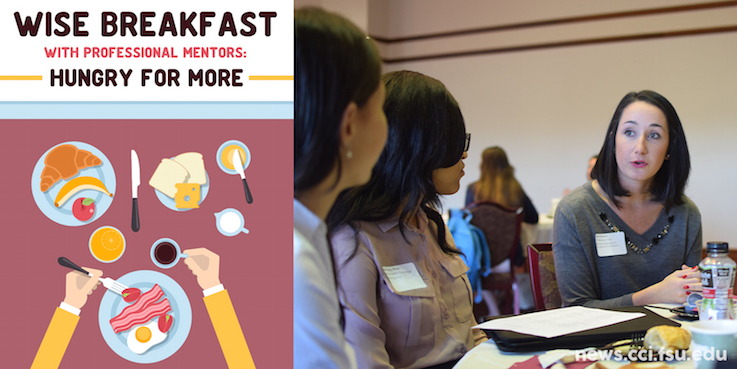 The women of WISE (Women in IT/ICT Sharing Experiences) recently got together for a breakfast at which they connected with peers in the field, learned about new employer initiatives and shared work and life advice.
This breakfast featured visits from several mentors from companies such as PointCatcher and Diverse Computing.
Barbara Wescott, founder and CEO of PointCatcher, raves, "We've cracked the door, but we need to bust it wide open. There are so many upcoming opportunities for women in tech."
Indeed, the upcoming opportunities for women interested in technology are astounding. Student organizations such as WISE provide these women with an environment in which to develop professional skills and connect with established female business and community leaders.
Many employers are interested in keeping the burgeoning talent of technology-oriented women here in Tallahassee.
WISE President Kelby Mahoney explains, "I was interested to learn that there are huge initiatives right here in Tallahassee. A lot of employers want to keep the talent here – and we have women that would thrive."
Women at the WISE breakfast also gave advice to each other relating to work life.
Student Hannah Brock of STARS Alliance says, "The advice that stood out the most was to fail fast and fail a lot and to not be afraid to do whatever it is you want to do."
As a whole, WISE aims to provide professional events for members, provide leadership opportunities for students, facilitate links between female FSU students and the local business/technology community and provide social collaboration venues for students. To learn more about WISE, click here.
The following mentors participate in WISE:
Linda Alexionok, Director, Practical Apprentice Center.
Ashley Augustine, Systems Consultant, Diverse Computing, Inc.
Mafe Brooks, Development Director, Florida State University College of Communication & Information.
Wendi Cannon, FSU College of Medicine, Associate Director of Information Management.
Andrea Dial, Assistant Director, Florida State University.
Melissa Ehster, Business Analyst, Diverse Computing, Inc.
Loree Evans, Executive Vice President, Image API, LLC.
Desiree Fraser, Systems Consultant, Diverse Computing, Inc.
Candice Grause, Market Research & Digital Communications Specialist, Tallahassee Community College.
Blair Gregg, Senior Marketing Specialist, Taproot Creative.
Roxanne Hughes, Research Faculty, Center for Integrating Research & Learning.
Nadia Kamal, Founder & Senior Chief, Onyx Creative Group.
Kim Kelling, Director of Content & Community Engagement, WFSU.
Amanda Kuff, Director of Marketing & Events, Sogeti USA.
Lindsey McIntire, Business Process Analyst, Infinity Software Development, Inc.
Nichole Moore, Senior Program Manager, Diverse Computing, Inc.
Christine Nieves, Entrepreneur in Residence, Florida State University College of Communication & Information.
Laura Osteen, Director, Florida State University Center for Leadership & Social Change.
Laura Rogers, Program Director, Leadership Tallahassee.
Katie Sack, Consultant, Sogeti USA.
Melissa Salisbury, IT & Operations Manager, Tallahassee Memorial Healthcare.
Sara Saxner, Business Retention & Expansion Coordinator, Tallahassee EDC.
Barbara Wescott, Founder & CEO, Pointcatcher, Inc.
Samantha Vance, Nonprofit Management Professional & Trainer, Florida Health Care Association.