On October 1st, the Lawrence C. Dennis Endowment for Student Success was announced at the CCI Leadership Board meeting. This endowment will provide needed support for undergraduate and graduate students within the College of Communication and Information. This funding will provide for internships, research opportunities, scholarships, leadership, and much more.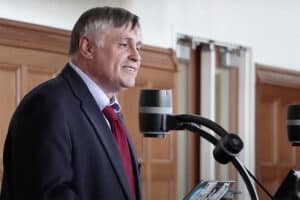 Dr. Lawrence C. Dennis, nuclear physicist, started with Florida State University as a postdoctoral researcher in 1979 and taught physics for over 20 years, making meaningful impacts on every student he worked with. Dennis served as the dean of the College of Communication and Information at Florida State University from when it was founded in 2009 to 2021. Following this, Dennis was designated as Dean Emeritus from the Interim Dean and his fellow faculty. Before this, he was the dean of the College of Information, and continues to leave his mark in many ways; Dennis will now return as a faculty member following years of service in leadership roles at FSU.
"One of the things that is so exciting about Information Technology is it can really change the way we perform and change our behaviors," said Dennis. Dennis helped establish the STARS alliance and the Florida IT Career Alliance, holding leadership positions in both and achieving his goal of making Information Technology more accessible to women, minorities, and other underrepresented groups. Through utilizing and organizing information, Dennis helps solve critical issues in innovative ways.
"The new endowment will focus on awarding student funds each year primarily for experiential learning experiences, something Larry has championed much of his career," shared Mafé Brooks, Director of Development for Florida State University. Linda Alexionok, CCI Leadership Board member, is launching this Board initiative with a $100,000 commitment.
To support the campaign, click here.