CCI faculty and students recently shared their work at the Kentucky Conference on Health Communication (KCHC).
KCHC, hosted from April 7th-9th in Lexington, KY, featured several research studies from CCI representatives. From the School of Information, Dr. Mia Lustria and second-year PhD student Obianuju Aliche presented two studies: "I Got Training on the Brain: Designing Motivational Messaging to Improve Older Adults' Adherence to Cognitive Assessment and Brain Training Programs" and "Examining Foreign-born Mothers' (FBMs) Perceptions, Attitudes, Information Needs, and Information Seeking Behaviors Related to HPV Vaccines and Vaccinations." Doctoral candidate Juan Muhamad's study on "Defining the Concept of Help Seeking to Support Efforts in Predicting Health-related Behaviors" was also presented.
From the School of Communication, doctoral student Tracy Ippolito presented her study, "Leveraging Sense of Community Responsibility to Connect Individual Actions to Collective and Civic Wellbeing" as well as a second study led by Dr. Jessica Wendorf Muhamad entitled "Civic Engagement as a Health Behavior: Mobilizing Individuals through Civic-Oriented Appeals." These two studies are part of a project funded by the FSU Institute of Politics on which Dr. Wendorf Muhamad and Dr. Patrick Merle serve as co-Principal Investigators and doctoral students Pooja Ichplani and Ippolito are team members.
Aliche's presentation is based on her dissertation, which examines health information seeking behaviors of foreign-born mothers in the US, specifically relating to HPV vaccines. Aliche's research was recognized in the top six of all papers presented, and received an honorable mention award.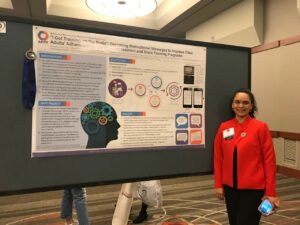 "Research shows that the diversities such as in cultures, languages, and religious backgrounds consequently inform their various health values and health beliefs such as vaccine uptake," said Aliche. "Moreover, foreign-born women are significantly less likely to receive the HPV vaccine than US-born women. Therefore, understanding how immigrants seek and use health information such as vaccination is critical to increasing uptake in this population."
Muhamad's presentation is one of several studies in which he examines the factors that contribute to mental health information and help-seeking.
Ippolito's study focuses on a central component of her research agenda, the role of community engagement in the context of health and science communication.
To read more from the conference, visit https://comm.uky.edu/kchc/2022/about