The 9th Annual Women in Leadership Conference was a success! Hosted on March 8th, 2022, by the College of Communication and Information, the conference featured notable female leaders from Florida and beyond. Many of the speakers are FSU and CCI Alumna. The goal of the conference was to connect female students and alumna with mentors who can help them develop the necessary leadership skills to succeed. The conference hosted over 175 participants in the FSU Turnbull Center.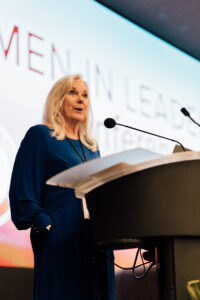 The conference opened with remarks from Dr. Martha Dunagin Saunders, FSU Alumna and the current President of the  University of West Florida. In her 30-plus years in higher education, she has served as a professor of communication, honors director, dean of arts and sciences and as provost, chancellor, or president at universities in Florida, Georgia, Wisconsin and Mississippi. Following the introduction and opening remarks, participants were invited to a series of panels hosted by female industry leaders, business owners, scholars, and more. Panels included "Finding Your Voice," "Taking Control of Your Finances," "From EDI to EDQ; Building Skills," "Starting Your Own Business," "Finding Jobs in Tech," and more. Following the panels, there was a networking hour where students and alumna could connect with local, female-centric organizations. Several CCI student organizations participated in the event, like Advertising Club, Women in IT/ICT Sharing Experiences (WISE), Connecting Girls to STEM (CGS), and more. The conference concluded with remarks from Sharon Delaney McCloud, an Emmy Award-winning broadcaster, TEDx Speaker, Certified Diversity Executive (CDE®), adjunct professor, and communications expert. McCloud spoke on the importance of developing resilience for women, and how women can use this skill in their everyday lives. 
"It's always a joy to get together with other like-minded women. We share our stories, we inspire each other, and that's a really powerful thing." said Renata Hughes, FAMU professor and one of the panelists at the event. 
"Conferences such as this are very important because it lets women know that they are not alone, they have a support system who have been down the path that they're taking. There are alumni here from FSU who are there to support them," added Denishia Sword, Founder of Notable Impressions, LLC.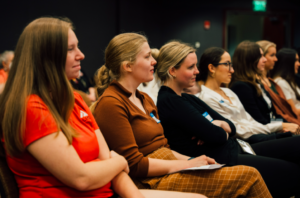 In addition to attending the conference, CCI students were able to help plan and facilitate the event. Volunteers from the CCI Student Leadership Council, CCI student organizations, and CCI students worked together to make the event a success. "Being able to help plan this conference was such a great opportunity." said Emma Bonney, one of the student organizers of the event. "Not only were we able to help plan the event, but we had the opportunity to network and form relationships with female leaders from all over the country. It was truly a special opportunity for all the students involved."
CCI would like to extend our thanks to all the volunteers, organizers, facilitators, and speakers who made this event possible. See below for the full list of speakers: 
Dr. Martha Dunagin Saunders (FSU Alumna, Ph.D, 1990) 

Sharon Delaney McCloud (FSU Alumna, 1989) 

Lakeisha Johnson (FSU Alumna, Ph.D, 2012, M.A., 2008, CCI Faculty)

Ely Rosario (FSU Alumna, B.A., 2000) 

Melissa Wright (FSU Alumna, B.S., 1999) 

Jessica Clark (FSU Alumna, B.S., 1998) 

Allie VanLandingham (FSU Alumna, B.S. & M.S., 2004) 

Christy Chatmon (FSU Alumna, Ph.D, 2022, CCI Faculty) 

Renata Hughes (FSU Alumna, M.S., 2013) 

Dr. Gabrielle K. Gabrielli (FSU Alumna, M.A. & Ph.D) 

Brooke Pautsch (FSU Alumna, B.S., 1992) 

Annika Suarez (FSU Alumna, B.S., 2012) 

Nanette Schimpf (FSU Alumna, B.S., 1989) 

Denishia Sword (FSU Alumna, B.A., 2007, M.A., 2008)

Betsy Crawford (FSU Alumna, 1996, CCI Staff)

Wendi Cannon (FSU Alumna, B.S., 2007, M.S., 2022) 

Ashley Augustine (FSU Alumna, B.S., 2013, M.S., 2022), 

Melonie White (FSU Alumna, B.A., 2005, J.D., 2008) 

Deidre Melton 

Heidi Otway 

Jennifer Garner (FSU Alumna, B.S., 2005) 

Samantha Vance (FSU Alumna, B.S., 2011)

Linda Alexionok (FSU Alumna, B.S., 1977)

Audrey Goff (FSU Alumna, B.S., 2005) 

Elizabeth Ricci 

Kim Kelling 
To see the full photo album from the event, visit https://cci.fsu.edu/women-in-leadership-conference-2022/