On April 1, 2021, 30 College of Communication and Information (CCI) students presented their research projects at the 2021 Undergraduate Research Symposium (URS), an annual showcase for students of all majors to present their work to a wider audience.
This year's URS was hosted on Whova, a conference management app that allowed students to speak alongside their posters virtually on Zoom while engaging with members of their respective break-out rooms. The event started with a "Nourishing Creative Hour" and "campus Partner Sessions" to allow students to network with the community and learn more about programs within FSU. After these sessions, the poster presentations began.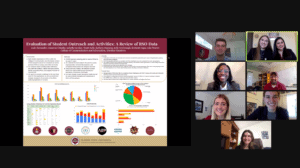 During their presentations, CCI students discussed their findings with the over 800 URS attendees.
Student topics are listed below:
| | |
| --- | --- |
| Students | Topics |
| Kevin Miller | Changes in Literacy Knowledge in Parents of Children with Hearing Loss |
| Morgan Marisa | Analyzing Written Communication Errors of Young Dual-Language-Learners |
| Eve Larkin and Emily Hale | The Cetamura del Chianti Virtual Museum |
| Ainsley Coty, Alyssia Price, Erin Miller, Christian Pruitt, and Sydney Cole | The Open Call Podcast Presents: |
| Brandan Tottle | How are FSU undergraduates advancing their professional/leadership development using campus resources? |
| Isabella Escobar and Kelly Newbrough | A Review of Social Media data for 8 Students Organizations |
| Yevgeny Senkevich | How Covid-19 has changed the way we work and collaborate together. |
| Mathew Solomon | Why Games Fail |
| Nicole Kelly, Luke Weaver, Kelly Newbrough, Kathryn Manning, Cameron Chisolm, Isabella Escobar, and Leah Abounader | Evaluation of Student Outreach and Activities: A Review of RSO Data |
| Marlan McInnes-Taylor and Jack Moran | Automating Software Traceability Link Recovery and Maintenance using Word Embeddings within a Shallow Neural Network |
| Elizabeth Hopkins and Kyla Cacoilo | Teens Learning Through TikTok |
| Hannah Linenkugel and Megan Maschhoff | Dual Language Learning |
| Kassidy Charles | Media coverage of police brutality in France: A case study of Amada Traore |
| Lindsay Wilson and Naomi Fu | Word Knowledge Instruction |
| Peyton Thompson | What is the relationship between vocabulary knowledge and writing quality of the writing samples of 5th grade students who are English language learners? |
| Alyssa Ranieri | Dosage in School-Based Speech Sound Therapy |
| Lauren Rivero and Janeka George | Bar room sessions, phase two: activating perspiring pursuits toward liberation in nightlife spaces an embodied free/style meditation on sweat |
| Bana Habash | The Digital Catalog of Milanese Publisher Sonzogno of Titles Published in 1885 |
| Emily Sarra | President in the Dock: How the Trial of Laurent Gbagbo Haunts Contemporary Côte d'Ivoire |
| Evelynn Alfonso and Ally Columbus and Luciano Bettocchi | Positional vs. Relational: The Lens in which Leadership Programs are Taught Across the United States |
| Elizabeth Schutte | Investigating Conservation Education |
| Kelli Sullivan, Crystal Alcalde, Marrit Faris, Nicholas Schwab, Aimee Wagner, and Kara Dudley | Deadly Mass Shootings 1976-2019 |
CCI students look back fondly on their URS experience.
"Being able to present the research that my fellow students and I worked on was a very rewarding experience," said student presenter Kelly Newbrough. "I learned so many skills working on these projects and I enjoyed being able to discuss what I learned and answer questions about my findings during the event."
This year's URS was a major success for CCI students. With over 800 attendees, each student got to showcase their hard work to a wide audience and have their projects recognized.
"The Undergraduate Research Symposium was a wonderful experience overall," said student presenter Nicole Kelly. "Having the opportunity to present our semester-long research to peers, educators, and the public was truly an honor. The event allowed us to interact with attendees, answer questions about our research, and receive thought-provoking feedback that can be used to further improve our research in the future. I am so grateful for the opportunity to present at URS."
CCI looks forward to having more students participate in URS in the future.