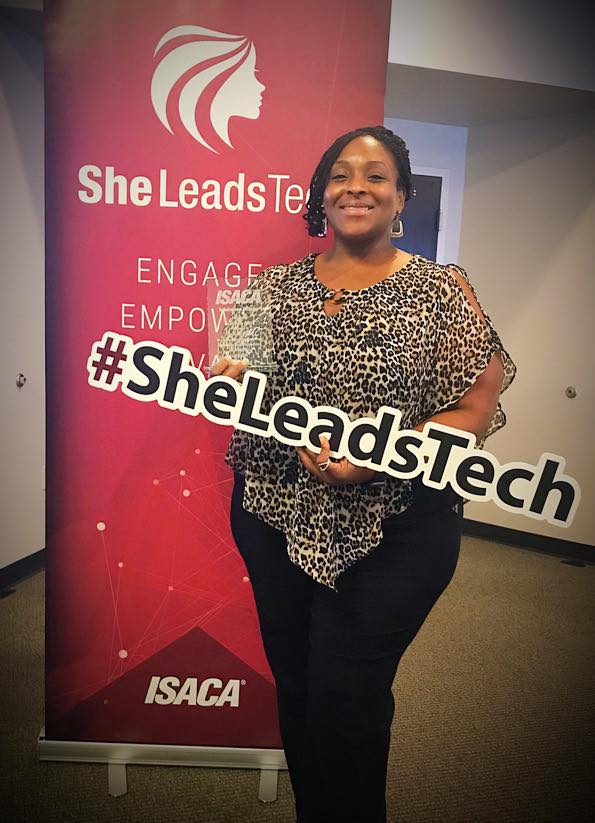 Christy Chatmon, an instructor and doctoral student in FSU's School of Information, is the recipient of the Academic Leadership Award from ISACA Tallahassee's SheLeadsTech. "For demonstrating exceptional academic leadership within the community," ISACA Tallahassee presented the award to Chatmon at their July meeting.
"Receiving this recognition is a great encouragement and motivation," Chatmon says. "Programs like SheLeadsTech help close the gender and diversity gap in tech."
A program of the Information Systems Audit and Control Association (ISACA), SheLeadsTech seeks to increase the representation of women in technology leadership roles and the tech workforce.
Chatmon was nominated for the Academic Leadership Award by Keith Berry, a former student and colleague of Chatmon's, who now works for Kyra Solutions, Inc. as a Solutions Architect. In his letter nominating Chatmon, Berry says, "Christy has long been an advocate and champion for educating and exciting students about technology. I've worked with her on strategic alignment initiatives to increase the level of access, exposure and resources students would need for successful engagement of an array of technology disciplines. I've also had the privilege of presenting to and sharing with her collegiate students and high school summer camp students on various topics in technology from IT security, infrastructure design and management, and professional development. Her own advocacy for learning about developing technologies, fostering relationships with technology researchers, influencers and disruptors, and increasing opportunities and access to IT careers and research opportunities for her students keep her a viable and respected resource for those who aspire to go deeper and higher into the various disciplines within technology."
SheLeadsTech's Academic Leadership Award adds to Chatmon's list of recognition for her contributions to student success, including a 2018 FSU Undergraduate Teaching award from the University, a 2018 FSU iSchool Outstanding Undergraduate Teaching award, and a 2017 nomination for an FSU Transformation through Teaching award.