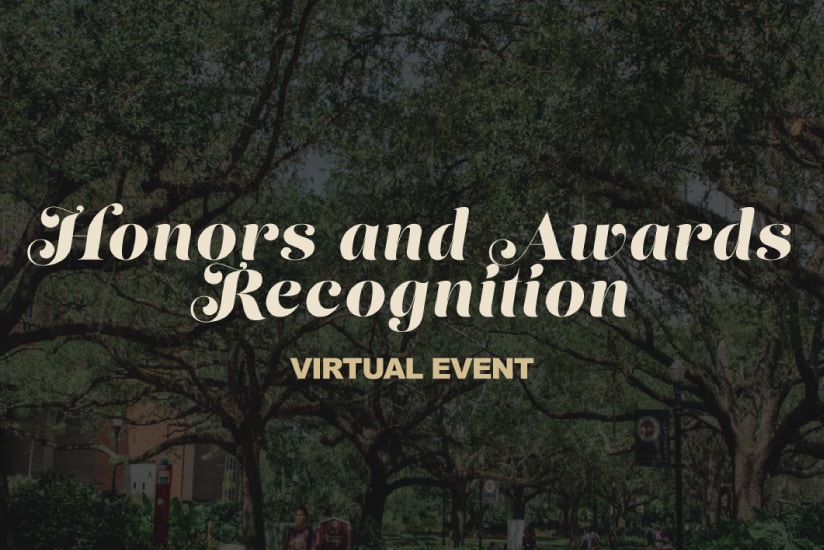 Each spring, the FSU College of Communication and Information (CCI) hosts the Honors and Awards Program and Reception to celebrate the academic excellence, leadership, and dedication to service of our students and faculty.
For the first time ever, this event was held virtually, via Zoom, where awardees and their friends and families were able to honor their accomplishments from near and far. At its peak, over 230 Zoom users attended the event on April 1, 2021.
View a recording of the 2021 Honors and Awards Program here. CCI also created a special webpage to honor award recipients featuring the recipient's photo and a narrative about their award. Congratulations to all!
School of Communication Science and Disorders
Graduate Leadership Award
Briana
Acevedo
School of Communication Science and Disorders
Outstanding Second Year Graduate Student Clinician
Areannah
Agathe
School of Communication
Outstanding WVFS Tallahassee
Louis
Akkermans
School of Information
Outstanding Doctoral Student
Obianuju
Aliche
School of Information
Outstanding Doctoral Research Assistant
Hany
Alsalmi
School of Communication
Faculty Research Award
Rachel
Bailey
School of Information
Outstanding Graduate Lead Instructor
Hyerin
Bak
School of Information
CCI Academic Leadership Graduate Student Award
Martin
Barbieri
School of Communication
Outstanding Master's Student in MCS Division
Elizabeth
Bennett
School of Communication
Outstanding Master's Student in IMC Division
Kaitlyn
Bludau
School of Communication
Outstanding Public Relations Student
Lexi
Boynes
School of Communication
Honors in the Major
Lexi
Boynes
School of Communication
Faculty Leader/Builder Award
Ulla
Bunz
School of Communication
Honors in the Major
Kassidy Monique
Charles
School of Communication Science and Disorders
Outstanding Distance Learning Student Award – Cohort 2018
Lenoir
Clancy
School of Communication
Honors in the Major
Aryanna
Clark
School of Communication
Honors in the Major
Rachel
Corry
School of Communication Science and Disorders
Outstanding First Year Graduate Student Clinician
Chelsea
Crosslin
School of Communication Science and Disorders
Outstanding First Year Master's Student
Matthew
Cusic
School of Communication
Outstanding Seminole Productions
Anabel
Daugherty
School of Communication
Top Teaching Instructor – SPC 2608
Madeleine
Dittmer
School of Communication
Doctoral Research Award
Vaibhav
Diwanji
School of Communication
Extraordinary Service Award – Graduate Student
Vaibhav
Diwanji
School of Communication
University Academic Leadership Award
Abigail
Ellis
School of Communication Science and Disorders
CCI Academic Leadership Graduate Student Award
Johanna
Eugenio
School of Communication Science and Disorders
Graduate Assistant Award
Johanna
Eugenio
School of Communication Science and Disorders
Faculty Teaching Award
Kelly
Farquharson
School of Communication Science and Disorders
Outstanding Distance Learning Student Award-Cohort 2020
Lori
Feingold
School of Information
F. William Summers Award
Diana
Ferguson
School of Communication
Outstanding Seminole Productions
Anthony
Fernandez
School of Information
FSU Academic Leadership Award
Kristen
Fessler
School of Communication Science and Disorders
Outstanding Doctoral Student
Keisey
Fumero
School of Information
CCI Academic Leadership Undergraduate Award
Jacob
Garcia
School of Communication
Extraordinary Service Award – Undergraduate Student
Jacob
Garcia
School of Communication
Honors in the Major
Jacob
Garcia
School of Communication
Honors in the Major
Mallory
Glaser
School of Information
Outstanding Master's in IT Student Award
Kaye
Grandstaff
School of Information
Faculty Leader/Builder Award
Zhe
He
School of Communication Science and Disorders
Outstanding Junior
Audrey
Hendrix
School of Communication
Outstanding Master's Student in PIMC Division
Madeline
Hill
School of Communication Science and Disorders
Outstanding Second Year Master's Student
Erica
Hope
School of Communication Science and Disorders
Undergraduate Leadership Award
Danielle
Hovsepian
School of Communication
Outstanding Doctoral Student
Svitlana
Jarosyznski
School of Communication
Top Teaching Instructor – SPC 1017
Svitlana
Jarosyznski
School of Information
Outstanding Undergraduate in IT Student Award
Nicole Irene
Kelly
School of Communication Science and Disorders
CCI Student Leadership Council Leadership Award
Shirin
Khambalia
School of Communication
Honors in the Major
Ni'A
Landon
School of Information
Faculty Teaching Award
Don
Latham
School of Communication
Faculty Teaching Award
Michelle 'Misha'
Laurents
College of Communication and Information
Academic Leadership Award – Undergraduate Student
Emily
Leto
School of Communication
Honors in the Major
Sabrina
Linares
School of Communication
Outstanding Multicultural Marketing Student
Naomi
Lopez
School of Communication Science and Disorders
Outstanding Senior
Paige
Lovell
School of Communication
Outstanding Hispanic Marketing Student
Lucia
Maldonado
School of Information
Gene T. Sherron Award
Kathryn
Manning
School of Communication Science and Disorders
Faculty Leader/Builder Award
Tricia
Montgomery
School of Information
CCI Student Leadership Council Leadership Award
Kelly
Newbrough
School of Communication
Outstanding Master's Teaching Assistant
Cassie
Nicolace
School of Communication Science and Disorders
CCI Academic Leadership Undergraduate Award
Lauren
Olmsted
School of Communication Science and Disorders
Outstanding Distance Learning Student Award-Cohort 2019
Krista
Parrinello
School of Communication Science and Disorders
Outstanding First Year Master's Student
Kathy
Perez
School of Communication
Outstanding Hispanic Marketing Student
Carolina
Perez
School of Communication
Outstanding Public Relations Student
Austin
Reichart
School of Communication Science and Disorders
Outstanding Distance Learning Student Award – Cohort 2018
Blair
Reid
School of Information
Outstanding Dissertation
Asif
Shaikh
School of Communication Science and Disorders
FSU President's Humanitarian of the Year Award
Jaya
Smith
School of Information
iSchool Academic Leadership Award
Jillian
Speck
School of Information
Faculty Research Award
Besiki
Stvilia
School of Communication
Outstanding Doctoral Teaching Assistant
Meng
Tian
School of Communication Science and Disorders
Faculty Research Award
Sana
Tibi
School of Communication
CCI Student Leadership Council Leadership Award
Savannah
Tindall
College of Communication and Information
Academic Leadership Award – Graduate Student
Jennifer
Vasbinder
School of Communication
Outstanding Advertising student
Tara
White
School of Information
Outstanding Doctoral Research
Muhamad Prabu
Wibowo
School of Information
Outstanding Doctoral Graduate Teaching Assistant
Shannon
Williams
School of Communication
Outstanding Digital Media Production Student
Rheannah
Wynter
School of Communication
Honors in the Major
Rheannah
Wynter
School of Communication
Outstanding Multicultural Marketing Student
Qijia
Zang
School of Communication
Student Organization Group Award
Director's Ambassadors
School of Communication Science and Disorders
Student Organization Group Award

FSU Chapter National Student Speech, Language & Hearing Association (NSSLHA)

School of Information
Student Organization Group Award
Blacks in Computing